Vaguely Green
Donate Now
Issue 242

May/Jun 2007
Do we need God? / Food Futures
Regulars
The Occasional Didymus
Vaguely Green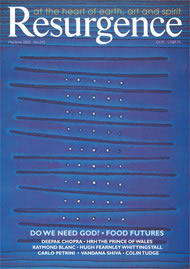 Cover: Tanhayee from Seeker, The Art of Sohan Qadri
Mature inattention to detail can result in significant carbon reductions.
NIGHTSOIL (I THINK that was his name, or it could have been Night-Jar)… his point was that Vagues can be trusted with power because, in the last crunch, there's an even chance they'll forget which is the wrong button: a 50% improvement in our survival prospect. Nightingale's point is robust – and I would like to build on it. If it's right for power to be entrusted to Vagues, then to Senior Vagues should be entrusted absolute power.
Take my wife… I'll rephrase that. The other day I dashed into Bradworthy – Bradworthy is the best place for shops. My first call was the garage. Nicola was busy, so I left the two cans for her to fill with unleaded when she was free. Then to Bob the Butcher. Let me immediately assure Resurgence's vegetarian preponderance that it is safe to admit Bob to these pages because he sells a whole range of what the locals term 'voreign trade' – olives, almonds in honey, organic chickpeas, and so on. When I reached the front of the queue I found myself disadvantaged by the vanishment of my shopping list. Bob said, "You could ring your wife," and handed me his mobile phone. Buttons… I'm not good with them. The woman who answered had a Belfast accent and was in no mood to discuss my shopping list. "Here, give me the phone," Bob said. He did the buttons. Antoinette answered. "Oh, you're there," she said, and rang off. "She rang off," I said. Bob looked non-plussed. "Let's try again," I said. This time I got in first. "It's me," I said. "Oh," Antoinette said. "Where are you?" "Bradworthy," I said, "Bob's." She said, "I thought you were in your workroom… How come you answered the phone?" "No, it was me ringing you," I said. "For the shopping list." "Shopping list?" she said. "Anyway, we don't need anything from Bob's. What we need is worming tablets." I didn't like to tell Bob this. I asked for… well, let's say a couple of cans of organic chickpeas, and said I'd pick them up on my way back from the vet's.
On my way to the vet's I remembered another thing on my list: stamps. When a Senior Vague does remember something it's best to act on it straight away before they for… I'll rephrase that: before their mind engages with something even more important.
On my way back from the Post Office I collided with a remarkable coincidence. There, halfway between Bob's and the vet (they're about forty yards apart) was Bob talking with the nice young woman from the vet's. When they saw me they gave me what I would describe as an appraising look, and said in unison that suggested they'd been rehearsing the line for weeks, "Ah, there you are."
Antoinette had rung back and asked Bob, would he impress on me that the most important thing on my list was a present for the people we were going out to have supper with that evening? Bob told Antoinette I was already on my way to the vet's. So Antoinette then rang the vet's and explained the situation to the nice young woman. Antoinette explained it at some length so that when she had finished and I still hadn't arrived this was seen as a matter of probable concern. Could it be that I'd forgotten the worming tablets?
Meanwhile, back at Bob's, Bob had begun to wonder whether I had maybe forgotten to return to collect my leg of… I mean my order. And the nice young woman – there's nothing to be gained by trying to imagine what she was wondering, though someone with experience of incipient stress syndrome might have an inkling from the way she was putting Bob in the picture by waving in his face a packet of worming pills.
I judged that the least I could do was to buy the modest present for our supper-hosts from Bob himself. Actually, nothing modest about it: a jar of organic redcurrant and orange jelly. Bob kindly put my order "in the book" because, as I explained, I now remembered I'd providentially placed my wallet with the shopping list to minimise the chances of forgetting either the one or the other. And then I drove home with the familiar sense of one-pointed achievement. Familiar, that is, to the more seasoned shopper.
I was, over a cup of tea, itemising for Antoinette this achievement when the phone rang. It was Nicola. Nicola is always polite. She asked, could it be that I'd forgotten to collect the two cans of unleaded petrol? "Ah…" I said, and wondered whether this was the moment to explain how Vagues are role-models in appropriate care of the environment because, as the current case demonstrated, mature inattention to detail can result in significant reduction of carbon emissions. Her speed of delivery however had suggested that she was still pretty busy. So I merely, and a little breezily (as if the future of the planet were not after all entirely in the balance), said I'd pop back that afternoon in the car and pick the petrol up.
Heck, while there is still life, every man must try to keep his lawn trim.