Do we need God? / Food Futures
Issue
242

• May/June 2007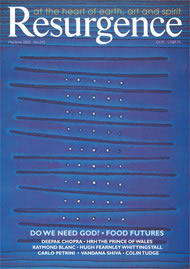 Buy a copy of this issue
Become a member and receive 6 issues a year
Contents
Key
Free for all to view
Free for members to view
Not available
Welcome
Do we need God? A response to Richard Dawkins.
Frontline
St Francis of Assisi primary school in Notting Hill, London is building a classroom from recycled materials and aims to be self-sufficient in energy.
The Adventist Development and Relief Agency is building straw houses in rural China.
AEGILOPS is rescuing seeds from extinction by promoting traditional varieties of wheat in Greece.
Rocket Gardens and True Food Co-op are making organic growing and buying in the UK easier.
Using her knowledge of plant medicine, Hakim Abebech is renewing the traditional wisdom of Ethiopia at the Deshet centre, near Addis Ababa.
Soil for Life is a South African NGO that teaches poor and hungry people gardening for the body, the mind and the soul.
Keynotes
Challenging Richard Dawkins: five arguments for the existence of God.
We are no longer dancing in tune with Nature's rhythms.
Grameen Bank: unleashing the energy and creativity of the poor with microcredit and social business.
The Arts
Craigie Aitchison's paintings allow us to see through the eyes of a child again.
Arthur Boyd's figurative paintings are alive with a sense of dialogue between life and ideas.
Simon Moore's glassblowing studio demonstrates a holistic approach to his craft.
"Only the narthex had remained secure." A short story.
Into the Further Reaches (ed.) Jay Ramsay: work by sixty-four contemporary British poets celebrating the spiritual journey.
Undercurrents
The Interface story: an eco-epiphany.
Mongolia: preserved or destroyed by tourism?
Riding on horseback from John O'Groats to Land's End in the footsteps of our ancestors.
Food Futures
The founder of the Slow Food movement explains how local food economies create knowledge, wisdom and lots of flavour.
Terra Madre conference speech: terminator technology is the ultimate instrument of food fascism.
The importance of retaining our regional food culture.
Industrial agriculture is one of the biggest carbon-emitting sectors in the economy.
Everyone could be fed to the highest standards if food production were back in the hands of the people.
On a bread-making course at The Village Bakery.
Inspiring children and families to cook together through a Children's Food Festival.
Regulars
Humankind has a duty of care for non-human species.
Mature inattention to detail can result in significant carbon reductions.
May menu: a plate of crudités for early summer, with two imaginative sauces.
Celebrity deficit hyperactive disorder.
Reviews
Review of The World Future Council's first major book asserts that we need to make profound changes in our culture and our relationship with Nature if we are to survive this and future centuries.
Review of Selfish capitalism and mass consumerism are damaging not only the planet but also the people.
Review of A global journey in search of the will of the wild.
Review of The Omnivore's Dilemma: A Natural History of Four Meals by Michael Pollan. How industrial agriculture has changed our relationship to food.
Review of Design Like You Give a Damn by Cameron Sinclair and Kate Stohr. How Architecture for Humanity is working to get a roof over the heads of those affected by natural disaster and poverty.
Web Exclusives
Meditation and the art of amusement - the work of Nevil Sattentau
The artist Jonathan Newdick wanders in a field of complementary meanings.
A journey of remembrance and protest.