VISUAL JAZZ
Donate Now
Issue 241

Mar/Apr 2007
Urban Ecology
The Arts
VISUAL JAZZ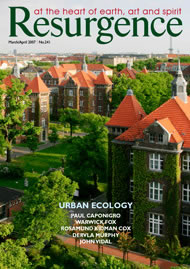 Cover: Clinical Centre Westend, Germany Photograph: M.Haddenhorst/Still Pictures
Lois Walpole takes innovation to extremes in basket-making.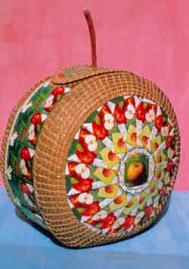 Laundry basket made from recycled juice cartons by Lois Walpole Photograph: Courtesy Lois Walpole
Lois Walpole is a wonderful example of how a modern sensibility and inventiveness can invigorate an age-old craft. She works in a noble tradition of basket-making, using willow, but has gone way beyond the traditional methods, forms and materials. She shows what is possible when an inventive artist's mind and soul work within a craft framework, and she shows how well that marriage works.
Her materials, methods and forms are imaginative, original and technically innovative. Considering that willow basket-making is probably the oldest craft there is (there is one theory that it pre-dates pottery and in fact led to the discovery of pottery through clay being accidentally picked up on a woven form when it was put down in the earth and then accidentally burned in a fire), you would think that every method of making had been thought of by now in the numerous traditions around the world. However, this is not the case.
Lois is driven by the need to be original: to rise to the challenge of creating new forms in a new way. She shows us that not everything under the sun is known and that it is possible through play and making 'samples' (which are a form of sketching with the materials) to create new methods of construction. Sometimes when working with a new material such as the one she is currently pre-occupied with – wires from champagne bottles – Lois will do as many as fifty sample sketches, playing as a child does with bricks. She is learning about the material, finding out what it will do, and trying things out. In that way new techniques come inadvertently out of the play, and this leads to new forms.
Lois is a mature artist, having created a major body of work since the early 1980s, and yet she has not repeated anything. Her imagination and inventiveness are quite original in the world of basket-making, and it is extraordinary that in such an ancient medium she can create new methods of construction. And, my goodness, her work is colourful! Some of her forms could put a peacock in the shade. Rich, vibrant plastic bags, bold, colourful strapping-tapes, bottle tops, wires and fruit nets are the sorts of thing Lois can transform into three-dimensional sculptures. Because of the rhythms inherent in weaving, arising from the methods of construction, the use of strong colours such as recycled plastics creates visual 'rap' graphics. Repetitive harmonies are interrupted by a strong block, and decorated with tinkly shells. Visual jazz.
Lois trained as a sculptor and has a sculptor's sense of the fullness of form. One of her recurring projects over the years has been making laundry baskets: such a simple vehicle for some wild imaginings. She has used orange-juice cartons, left-over textiles, wire and cardboard, and each basket is
different and beautiful. She shares her language of some forms with those that potters work with: fullnesses and roundnesses.
AS THE RANGE of the materials Lois uses increases, and people keep bringing her more and more products to recycle, she finds that she needs to create a boundary within which to focus. For a future artwork Lois told me that she would love to be given a project in which she is offered the use of a piece of land, perhaps not a very big piece, and asked to make something from the materials there. Such a restricted framework really stimulates creativity.
Another major project of Lois's is one in which she has been finding ways of invigorating the actual growing of her favourite plant, willow. She has been creating new ways of making living willow forms, cultivating growing willow plants which can then become living chairs. This was developed at the successful 'grown home' exhibition at Kew Gardens, London.
Lois is probably the most influential and inspirational person in the field of contemporary basket-making, and is involved in organising an international basket-making competition which will undoubtedly energise the field. She is looking forward to a major exhibition of her work in the Canaries later this year, and is clearly happy in her new life in France, teaching, running courses and passing on what she knows.
Lois Walpole's website is at www.loiswalpole.com.