Urban Ecology
Issue 241 • March/April 2007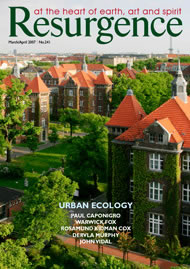 Buy a copy of this issue
Become a member and receive 6 issues a year
Contents
Key
Free for all to view
Free for members to view
Not available
Welcome
We need to grow food, harvest water and generate energy in our cities.
Frontline
Bill Dunster has developed a design for affordable, ecological self-build homes in the UK.
FareShare works with major food retailers in the UK to distribute unsold food to homeless and disadvantaged people.
Zero-waste and carbon-neutral villages in the UK.
After the collapse of the cod-fishing industry, the town of Raleigh, Newfoundland, revived the traditional art of mat-hooking using recycled materials.
Stuart Downward is helping urban communities to reclaim their lost rivers.
Tools for Self Reliance is still making a difference by refurbishing unwanted tools.
Urban Ecology
We need green space in cities, yet we are building over it at an alarming rate. The story of Camley Street natural park, in the centre of London.
US cities are neck-and-neck in the race to be green.
How the city of Seoul, Korea, restored its river by tearing down a motorway.
CITIES OF HOPE • Jo Oland
Cities: Magnets of Hope.The World Habitat Awards recognise inspirational approaches to solving housing problems.
The New Rural Reconstruction Movement in China aims to reverse the movement of people into the cities.
Water shortage and flooding are in the vanguard of climate change. We need to learn to respect water and use it intelligently.
The Renewable Energy House in the heart of Brussels.
Keynotes
Thinking contextually would lead to a more ecologically coherent and democratic world.
ASSESSING THE UNKNOWN • D. K. Matai
Collective wisdom, resourcefulness and ingenuity will help us to deal with the risks to the planet.
Undercurrents
Why some governments support commercial whaling.
In this era of instant connectivity, we may be losing connection with ourselves.
The metaphor of imaginal cells, and the Alliance for a New Humanity.
Restoring a sense of wellbeing: one family's experience of travelling in Europe.
The No More Breast Cancer Campaign is campaigning for the UK government to address the role of pollutants in the breast cancer epidemic.
The Arts
To the River: the poetry of Tim Lilburn.
The photographic process is a fluid and living ecology.
Lois Walpole's innovative basket-making.
Remedios Varo's painting combines the rigour of academic training with a magical surrealism.
Making your own clothes: spinning, knitting, dyeing and weaving.
Regulars
The fashion and clothing industries need to respect worker and environmental rights. Labour Behind the Label is a campaign group that supports garment workers' efforts to improve their working conditions.
Kyoto2 would control fossil fuels and greenhouse-gas emissions as close as possible to the point of production. An outline of the framework for a second climate change protocol.
Visionaries

- HANS CHRISTIAN ANDERSEN • Jørgen Stig Nørgård

The famous Danish storyteller underpinned his stories with deep wisdom.
Letter from America

- DRYING TIMES • Nicols Fox

Saving energy by drying washing on a line.
Slow Travel

- SIBERIAN SILENCE • Dervla Murphy

A fraught but breathtakingly beautiful journey through Siberia by bus.
Recipes

- Salads of Spring • Daphne Lambert

A spring salad made with a delectable mix of wild and garden herbs.
Letters to the Editors
Reviews
Review of The tragedy of a stork trapped in a plastic bag on a rubbish dump. From One Planet by Nicolas Hulot.
Review of In the 1980s a group of determined people walked from Cardiff to Newbury during the Cold War to establish the famous peace camp at Greenham Common.
Review of We cannot heal the wounds of global injustice if we are consumed with anger rather than compassion.
Review of Finding Sanctuary: Monastic Steps for Everyday Life by Abbot Christopher Jamison. Anyone may find sanctuary in his or her daily life.
Review of Heat: How to Stop the Planet Burning by George Monbiot. Cutting our greenhouse-gas emissions sufficiently for our survival will need a profound transformation of our society and economy.
Review of Bhutan: A Visual Odyssey Across the Last Himalayan Kingdom by David Macaulay. An extraordinary book about the kingdom of Gross National Happiness.
Review of Nuclear Power is Not the Answer by Helen Caldicott. Why we should still be saying 'No thanks'.
Review of Timothy's Book: Notes of an English Country Tortoise by Verlyn Klinkenborg. Imagined philosophical conversations between Gilbert White and the tortoise who lived in his garden.
Review of The Night Life of Trees by Bhajju Shyam, Ram Singh Urveti and Durga Bai. The act of painting is an act of prayer. Magical works by three Gond artists.
Review of Cosmos and Psyche: Intimations of a New World View by Richard Tarnas. Challenging the view that the cosmos is a soulless, impersonal and unconscious background.
Web Exclusives
Computers make it easy to find stuff however it's organised; that means i never really organise and simplify my stuff.
Review

- A PHILOSOPHICAL GIANT • Michael Tobias

Review of Of Myself by Rabindranath Tagore
Review

- A QUEST FOR TRUTH • Chris Clarke

Review of The Science of Oneness by Malcolm Hollick

Review of Archetypal Postures by Ian R. Hopton
Review

- FORWARD TO NATURE • Aidan Rankin

Review of The Bloodless Revolution by Tristram Stuart

Review of Circles of Transformation by Marilyn Daniels, Anne Goodman, Edmund O'Sullivan and Heather Reid
Review

- SAVE THE TURTLE • Andy McGeeney

Review of Voyage of the Turtle by Carl Safina

Review of After Eden by Kirkpatrick Sale