Gaian Renaissance
Donate Now
Issue 247

Mar/Apr 2008
Long Live Biodiversity!
Climate, Biodiversity & Livelihoods
Gaian Renaissance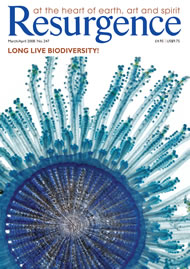 Cover: Blue button jellyfish. Photograph: David Liittschwager/ National Geographic
With an economic system driven by scarcity and competition, developed-world lifestyles have set us on a course which could lead to oblivion for many species. However, a new cultural vision is emerging which recognises the archetype of the Living Earth as the context within which we find meaning. One form of this is the Transition Towns movement in the UK, where people are reconnecting to the rhythms of the natural world and the local environment through participation. Will this emergent phenomenon coalesce into a critical mass in time to divert the course of catastrophe?
CLIMATE CHANGE IS a symptom of a behavioural disorder in humans that could lead to our own self-destruction as a species. This disorder is expressed as rampant consumerism that we use as a distraction for lives that have become meaningless because we no longer connect deeply with the rhythms and abundance of the natural world.
This abundance is expressed through the rich diversity of species and cultures that have emerged during the course of evolution. It is this natural diversity and capacity for abundance that we are destroying; this has resulted in climate change, driven by our inexhaustible ...
To read the rest of this article, please buy this issue, or join the Resurgence Trust. As a member you will receive access to the complete archive of magazines from May 1966.
If you are already a member, please Sign in