Long Live Biodiversity!
Issue
247

• March/April 2008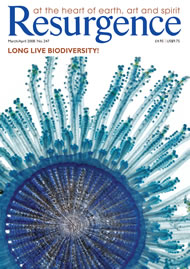 Buy a copy of this issue
Become a member and receive 6 issues a year
Contents
Key
Free for all to view
Free for members to view
Not available
Welcome
Keynotes
It's time to navigate alternative routes.
Life without wonder is not worth living.
Seeing 'growth' in another light
Climate, Biodiversity & Livelihoods
Introducing this issue's special feature.
Exposing the inadequacies of carbon trading.
Rebuilding agricultural resilience.
The realities of agrofuel production.
Reconnecting local networks.
Transforming legal systems.
Principles for a natural way of living.
An interview with Mphatheleni Makaulule.
The emergence of a new cultural vision.
A 12 Point Plan
Undercurrents
Animal welfare is paramount in organic dairy production.
The Arts
The centennial year of Cecil Collins.
A conversation with Antony Gormley.
Regulars
Reviews
Review of Cycling to Work
Review of Mary Newcomb
Review of The Final Cut
Review of The Biodynamic Year
Review of Earth Then and Now
Review of The Essential Seyyed Hossein Nasr
Review of Tough Little Beauties
Review of The Flowering of Flint
Review of Spirituality as a Public Good