In My Own Words: THE JAIN PATH
Donate Now
Issue 241

Mar/Apr 2007
Urban Ecology
Reviews
In My Own Words: THE JAIN PATH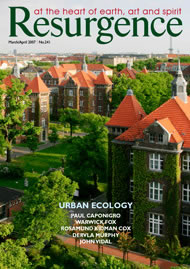 Cover: Clinical Centre Westend, Germany Photograph: M.Haddenhorst/Still Pictures
Abbot Christopher Jamison Weidenfield & Nicolson, UK, 2006, £10.00
IN 2005, THE BBC broadcast a television series entitled The Monastery. This series followed the lives of five men as they endeavoured to live the monastic life by spending forty days and forty nights in the company of the abbot and monks of Worth Abbey, a Benedictine Monastery in Sussex, southern England. At least 3 million people watched the programmes; many thousands of them subsequently contacted Worth Abbey. The trials and tribulations of the men and monks involved, struck a heartfelt chord with many people. It addressed a yearning for a depth and meaning to life that many presently find absent. The Abbot of Worth Abbey, Christopher Jamison, and his fellow monks came across as very human people, with great patience, kindness and understanding. Each of the five men involved left taking with him very personal lessons – in one overt case, with a decidedly profound personal experience. The process was two-way, however. The monks experienced a greater awareness of the relevance of their way of life to people in modern society. Jamison seemingly felt moved to write this book as a result, to lend assistance to a far wider audience.
The text describes a working method whereby anyone may find sanctuary in his or her daily life. Not a superficial sanctuary, or a temporary reprieve from the ills of a given moment, but a profound sanctuary, that of fostering awareness and allowance of that which the Christian religion calls God, in every aspect of daily life, including within oneself. The text does this by recommending seven steps to follow, arising from Christian teachings and the Rules (guidelines) of St Benedict. They are appropriately named Silence, Contemplation, Obedience, Humility, Community, Spirituality, and Hope. The text begins by discussinmodern life, busy-ness, consumerism and the feeling of the need for sanctuary. It then describes each step with an opening quote from the Rule of St Benedict, followed by discussion and examples relevant to modern life. The chapter on spirituality may raise a few eyebrows, since it more strongly recommends the full support structure of religious methods over some other spiritual avenues presently employed. In my view, whilst this is importantly often true, it can miss appreciation of the fact that that which is given the name God may be found in anything, by anyone, if found carefully enough, since God exists in all things. A chapter on hope, and our approach to death and peace, importantly completes these steps. The parable of the Prodigal Son aptly concludes.
This is a beautiful book. Definite in its coverage and recommendations, it is nonetheless a valuable guide for anyone in daily life, irrespective of background. I heartily recommend that it be placed within reach of as many people as feasible, including in hospitals and similar healing environments. Whilst it is merely hinted at in the early part of the book, I wish to augment the text with the following point. The contents will address many of the fundamental causes that give rise to the symptoms that we see, such as climatic change, poor personal and social relations, inequity and lack of tolerance. It is, whether via the text or by other suitable methods, the primary requirement to obtaining genuinely sustainable and simple living: finding sanctuary in oneself and, thereby, in life.