A Spring Sowing
Donate Now
Issue 247

Mar/Apr 2008
Long Live Biodiversity!
Regulars
Gardening
A Spring Sowing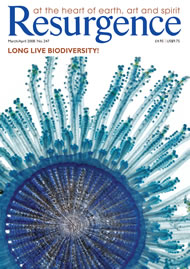 Cover: Blue button jellyfish. Photograph: David Liittschwager/ National Geographic
One for the snail, one for the snow, one to rot and one to grow.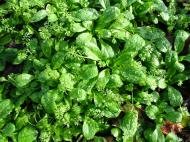 Lamb's Lettuce. Photograph: David Baker
MARCH BRINGS THE shift in day length and with it the tangible start of the growing year. Almost all that you wish to bring into being needs its inception in March and April and this urgency can induce a state of spring fever, either of delight or panic, as you unpack seeds and sow in pots, trays or open ground. Every seed holds a promise of a unique individual – flower, fruit, swollen root or abundant leaf – and the virtual garden in your mind is infinitely more promising than anything actually achieved the year before. Pause a moment as you plan the next twelve months' eating; a little forethought can help in avoiding the
bottlenecks of potting-on or hunting for seedlings in an overgrown seedbed.
March and April are often the hungry months in the vegetable garden; if we are lucky, some chard will have survived frost and wet to give a new flush of leaves, and if the sprouting broccoli has survived wind and pigeons there will be weeks of delicious picking. The first seeds to sow are those germinating within a few days indoors, either in a salad sprouter or a large jar: try alfalfa, mustard, cress, chickpeas, lentils, aduki and mung beans, fenugreek, sunflower, broccoli, rocket, radish and wheat. Salads like these invigorate and cleanse the system of winter torpor, restoring vigour and energy. These seeds are all produced en masse by the parent plants and germinate reliably, an asset in the vegetable garden as well as for sprouting.
The next batch to sow are the early salad crops and it is always difficult to know whether these are better sown in trays or the open ground. We might have a perfect March, with gentle rainfall and warm airstreams, or the weather might remain resolutely dry and cold, with easterly winds keeping life on hold. Do both if you can because open-ground sowings under favourable conditions come on better than those sown under cover with the attendant climatic adjustments and interruptions to root systems. Lettuce, beetroot, carrots, peas and coriander are my essential first sowings both inside and outdoors, and can all be sown again in the open each month until the summer solstice. A most interesting practice (established by Gertrud Franck in Germany), once the snow has melted and the soil is perfect for raking to a fine tilth, is to sow the whole garden with spinach as a cover crop, supplying spring greens. Once other crops are ready for planting it can be hoed off to provide a surface mulch.
Sowing under cover is good practice for more expensive or exotic seeds that require warmer temperatures to germinate, or those of which only a few are needed. Hybrid broccoli, red and spring green cabbages, celeriac and basils find a space in my potting shed along with heat-loving tomatoes and the squash family, which need the longest growing season we can give them. Good light as well as warmth is needed, otherwise seedlings will become spindly; brassicas are notably inclined to develop a twist in these conditions, which persists into maturity. Equally a drawn-out tomato will continue lankily even when light levels improve. Growing under cover is an intervention, generating the need for continual vigilance; knowing your own strengths of character will guide you to your best practice.
IN DEVON, SPRING comes in fits and starts, without the definitive end of a cold, dry winter. We must be ready to respond to the changeable island climate, and garden in any clement conditions that arise. This also means we can cultivate and spread compost in the winter: good practice for conditioning ourselves and the soil.
It is said that you need to sow one for the snail, one for the snow, one to rot and one to grow; hence the fantastic seed production of most plants. Here, the greatest setbacks to open-ground sowings are slugs and snails, and over the years my solution has been to keep ducks, who browse the garden through the winter, combing the surface litter of plant matter for slugs and other invertebrates. Where ducks are not an option, there are now preparations including a nematode or biological control, which inhibits the activity of slugs without compromising their place in the food chain. An octogenarian gardener friend goes out with a torch and bucket on spring nights, another friend has a vibrant pond with frogs, and if you look closely you may find the presence of hedgehogs and toads, which are also fond of a slug diet. The best snail-eaters are blackbirds and thrushes. They choose a large flat stone as their 'table' where they crack the snail-shells. Keeping plants that produce berries unpruned through the winter attracts these birds to your garden, their song livening the longer spring evenings.
APRIL IS A good time to sow autumn and winter food crops outdoors. A few feet of leeks sown in a drill will give you plenty of plants to see you through to next April when they will begin to flower. A little seedbed of sprouting broccolis, white, purple early and late, thinned and netted against the birds and planted out at midsummer, will be a culinary treasure a year from now. Parsnips need a long growing season and germinate better under cool conditions, so the start of April is still good.
I usually allow a few of last year's crops to stand and set seed, either to collect seed myself, or more often to allow self-seeding, bringing a better understanding of their germinating habits. Parsnips have shown an unusual penchant for the flower borders; chard sends up swathes of scented flowering plumes up to five feet high, setting seed, germinating freely all around the garden and giving fresh picking for free. Leeks make globes of myriad capsules trembling on their stalks as they catch ripening warmth and drying air. Rocket once established in a garden will self-sow in spring and late summer and, like all self-sown plants, has real vigour. Corn salad, originally sown here in August 1987, is now a permanent resident appearing in autumn in patches throughout the garden.
Buckler-leaved sorrel adds a sharp flavour to spring soups and salads, and has given me a whole row of self-sown plants, carpeting the path below our asparagus bed, itself another long-term solution to the spring gap. Asparagus is not hard to grow from seed, preferably under cover, since the first shoots are so slender, and once established it only needs weeding and mulching to give you years of spring feasts.