In My Own Words: Making Time
Donate Now
Issue 247

Mar/Apr 2008
Long Live Biodiversity!
Reviews
In My Own Words: Making Time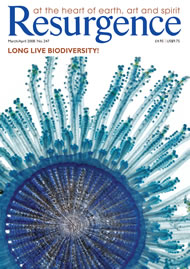 Cover: Blue button jellyfish. Photograph: David Liittschwager/ National Geographic
Moving beyond linear time.
The Norfolk Coast, UK. Photograph: Istockphoto.com
IN WESTERN CULTURES we perceive time as a linear process: as a kind of river that flows from the past through the present to the future. The past is a bottomless box of moments that were once present but have now disappeared and will never be known again, while the future is an endless sequence of moments waiting to become present, which are unknowable until they arrive. This idea of linear time runs through Judaic and Christian belief, with the notion that the world has a beginning and an end, and that time itself was created with the world, and will end when the world ends. As St Augustine wrote, "The world was made with time and not in time."
Even now many scientists put forward a strictly linear view of the universe, telling us that it was created in a Big Bang about 16 billion years ago, when a giant mass of matter exploded out and slowly formed into galaxies and stars and planets. The force of the Big Bang means that all galaxies and stars are still expanding out into space, but at some point in the future, when that initial exploding force has died down, gravity will begin to pull all of them towards each other again, and eventually the whole universe will collapse in on itself and die in a 'Big Crunch'. (This is just the view of some scientists; others believe that the universe will simply keep drifting apart forever.) In other words, time has a beginning and an end, just as in the Judaeo-Christian worldview.
However, there are some peoples in the world to whom, it seems, time hardly seems to flow at all. Most traditional indigenous peoples do not have words for time, the future or the past. Their languages generally don't have past or future tenses, or words for 'late' or 'waiting'. Our sense of linear time is so strong that it's important for us to name and number the different intervals of time that we live through. We always know where we are in time – how old we are, and what day of the week and what year it is. It's as if our lives are a journey and we need to be constantly aware of how far we've gone, and where we are along the way. But this is much less important for indigenous peoples. They generally don't number years as they pass, or count their own ages in terms of years.
For us time is an abstraction. The seconds, minutes, hours and weeks by which we measure our lives don't correspond to any natural phenomena – they're just man-made mathematical divisions of time. Days, months and years are real phenomena, of course, but even they are abstract concepts in the sense that we've given them different names, and think of them in terms of sequence. But for indigenous peoples time can never be separated from Nature. It doesn't exist as a concept in its own right, but only as an aspect of the natural world, in terms of the yearly cycle of natural events or the duration of natural processes. For us, time has become divorced from Nature, in a way that mirrors our general sense of alienation from the natural world. And one consequence of this is that indigenous peoples always wait until the time is right for them to start something – either until natural phenomena give them a particular signal, or until they intuitively feel that all the conditions are right – whereas we let our artificial time tell us when to begin activities.
Not surprisingly, traditional indigenous peoples also have a much less defined sense of the future and the past than Westerners. Our sense of the future and the past is so acute that it alienates us from the present. We spend so much time thinking about the future and the past that we forget about the present that we're actually living in. But indigenous peoples are much more 'present-centred' than we are. Some peoples scarcely seem to distinguish between the past and the future. The Inuit of Canada's Baffin Island, for instance, use the same word – uvaitiarru – for the distant past and the distant future. As the anthropologist Maurice Bloch noted, African peoples such as the Hadza and the Mbuti never talk about the past, and have no concept of 'history'. Indigenous peoples generally seem to have very little concern for past events or important personalities from the past. Although most have origin myths of one form or another, these aren't history in our sense of the term. They don't describe a process of one thing being created after another, and the creation of the world isn't necessarily seen as complete or as a past event.
So why does time seem to be a vague, foggy concept to indigenous peoples? Why don't they appear to have a sense of linear time, and to be so unconcerned with the past and the future?
In my book The Fall I tried to show that the essential difference between modern Eurasian peoples and indigenous peoples is that we have a stronger and sharper sense of self than they do. Indigenous peoples don't exist as self-sufficient individuals in the way that we do; their identity can't be separated from other people or Nature. They don't just live in a group, as a collection of individuals: the community is part of their being, an extension of their self. In the same way, they don't feel that they just live on land, but that their land is a part of their very identity, as much a part of their being as their own body. This is one of the reasons why being forcibly 'relocated' by governments is such a tragedy for them. Their attachment to their land is so powerful that they experience this as a kind of death. The Fijian anthropologist A. Ravuva, for example, notes that the Fijians' relationship to their vanua or land is "an extension of the concept of self. To most Fijians the idea of parting with one's vanua or land is tantamount to parting with one's life."
Our linear sense of time is the result our of strong 'ego structure' – the powerful sense of individuality which separates us from Nature, from our community and even our bodies. And in the same way, indigenous peoples' present-centred non-linear sense of time (and their strong sense of connection to Nature) is the result of their less sharpened and separate ego.
This relationship between time and the ego suggests what we can do to become less bound by linear time. We can soften our ego-boundaries through practising compassion, service, meditation and other time-honoured spiritual techniques of transcending selfishness and separateness. We can also practise the habit of mindfulness, of giving complete attention to the present and to our surroundings. Self-development can lead us beyond the tyranny of linear time, back to a state which was once our natural birthright, and enable us to reclaim what is ultimately the only gift we have: the present.