Cycling Community
Donate Now
Issue 247

Mar/Apr 2008
Long Live Biodiversity!
Reviews
Cycling Community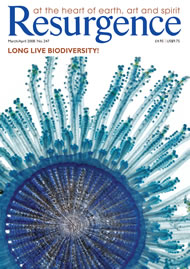 Cover: Blue button jellyfish. Photograph: David Liittschwager/ National Geographic
Cycling to Work:A Beginner's Guide Rory McMullan Green Books, 2007, UK, £4.95
IF YOU'VE BEEN toying with the idea of cycling to work of late, but just haven't made that final effort, then buy a copy of this book and you'll definitely be motivated to get on your bike. For starters, it gives a list of all the obvious reasons why it's a good idea to cycle to work, and some less obvious ones too, like, for example, that you are 50% less likely to experience depression. Of course, one of the major benefits is that cycling to work will significantly reduce your carbon footprint, so even if you cycle to work just a couple of times a week or month, the combination of the many positive outcomes of cycling has got to be worthwhile.
Knowing all this, do you really need a booklet on cycling to work? Well, if you're a true beginner, then yes, this one is very useful. With tips on how to avoid 'helmet-hair days' and how to look and smell fresh once you get to the office, as well as important information on what kind of bike to buy, how much you should pay for it and how to maintain it, this little booklet soon becomes invaluable. It has information about the little-known Salary Sacrifice Scheme – a dreadful name for a great idea that encourages employees to buy cycles and safety equipment for their staff as a tax-free benefit. You then pay back the price of the bike from your gross salary, which reduces your income tax and means that you end up paying about half the cost of the bike. It also looks at second-hand bicycles, freecycle bicycles and eBay – but it doesn't go so far as recommending your local rubbish tip, which is where a friend of mine finds all the bicycles he needs for his growing family.
Deciding what is the right bicycle for you is probably the most important aspect of your cycling-to-work experience. It's imperative that you have the correct size frame and a riding position that is comfortable. A folding bike is recommended if part of your journey is by train. For me, the right bicycle is most definitely a power-assisted one. I live in rural North Devon, in a steep-sided valley, and if it were not for the Powabyke that I've had for over ten years, I wouldn't be tempted to cycle at all. With a 1 in 4 hill on one side and a 1 in 5 on the other, cycling without power-assistance is too much like hard work! But with a power-assisted bicycle it is an utter joy. One twist of the throttle as you approach the hill, and the power cuts in and aids your journey. You do have to keep pedalling, and the steeper the hill, the more energy you have to expend to get up it, but this is as nothing compared to pedal-power alone.
Some of my male friends – the ones in cycling clubs, who 'off-road' at weekends and call in at my door splattered in mud and totally exhilarated – sniff a little at the Powabyke, seeing it as the easy option. But I say, great! I love to be at ease, and as we buy our electricity from Ecotricity, even charging the bicycle (which costs pennies and lasts for up to twenty-five miles depending on the terrain) is relatively green.
Recently, Powabyke lent me a new model of their best-selling range to test-ride and I was keen to see how the design has improved over the last ten years. I was really delighted that the lightweight lithium battery improved the overall weight and manoeuvrability of the bike (and lasted much longer between having to go back to the factory for a full re-charge), and I thoroughly enjoyed cycling the mile into the Resurgence office, uphill all the way, without a gasp for breath. People stopped me in the street to ask about the bike and admire it. My parents (who whilst by no means elderly, are getting on a bit in years), were so impressed, that they went out and bought a couple of power-assisted bicycles for themselves. Now they cycle the five miles into Holsworthy (which is no less hilly than Hartland) once or twice a week to get their groceries and to stop for lunch in the local café. Their bicycles are a different design from mine, slightly cheaper and lighter and with some interesting extras such as a power cut-in option via the pedals; so it is important to check out what would suit your needs best. For the older or less able cyclist, or for those who live in the hills or who don't particularly like to 'get a sweat on', the power-assisted bicycle has all the joys and benefits of cycling, without the pain.
I have only one gripe about Rory McMullan's book: I do think it misses one of the most fundamental reasons why it is great to cycle to work, and that is that each morning and evening, you get to see Nature on a level where it really matters, to paraphrase eco-poet Gary Snyder. As you set off in the morning, you notice the frost on the lawn and the robin singing his special spring song in the budding hawthorn hedge. On the way home, while dusk is looming, you see the Evening Star in all its glory, before the streetlights come on and diffuse it. Yet, a month later, all is different – now the robin is building a nest in the hawthorn, which is the first in the hedgerow to break into leaf. Your cycle home is no longer in the dusk, but in full sunshine, which warms your back. And you say hello to your neighbour as you meet her in the local shop, which you've both stopped at on the way home on your bicycles. Cycling rebuilds community.
If you buy this little book, it will help you to find out where your nearest bicycle user group is, where your nearest cycle network starts and where you can get some bicycle training (a great idea if you live in a busy town or city). You'll suddenly find that you belong to another community – the cycling community – and the hallmark of that is happiness. As H. G. Wells once said, "When I see an adult on a bicycle, I do not despair for the future of the human race."