Beyond the Brochure
Donate Now
Issue 247

Mar/Apr 2008
Long Live Biodiversity!
Reviews
Beyond the Brochure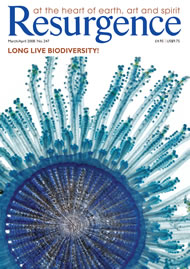 Cover: Blue button jellyfish. Photograph: David Liittschwager/ National Geographic
The Final Call: In Search of the True Cost of our Holidays Leo Hickman Eden Project Books, UK, 2007, £12.99
BY 2010, IT is likely that there will be over one billion international tourist trips made each year. It's a frightening statistic, not least because of the disconnect that often exists between our willingness to enjoy our two weeks in the sun with a lack of awareness of how our holidays actually impact on the places we so love to visit. The Final Call is a long overdue investigation into why there is often much more to our holidays than meets the eye.
Leo Hickman writes a weekly column in The Guardian championing ethical living (his previous books are A Life Stripped Bare: My Year Trying to Live Ethically and A Good Life: The Guide to Ethical Living), but for The Final Call Hickman journeys into uncharted territory, spending a year jetting off to far-flung places "in search of the true cost of our holidays". Hickman introduces the growth of the aviation industry as the context for his investigation. One-fifth of the world's international passengers, he explains, are now on flights to or from a UK airport. So he sets out to answer two questions: "Just where as tourists are we heading, both literally and metaphorically? And are we content with the implications?"
Hickman visits a dozen popular holiday destinations, including the Spanish costas, Alpine mountainsides, the cruising waters of the Caribbean, the bars of Tallinn and the deserts of Dubai. He talks to chambermaids, waiters, tour guides, migrant workers and environmentalists. What he finds doesn't make for comfortable reading: marginalised local people; depletion of precious natural resources; sex tourism; marine pollution on a massive scale – in chapter after chapter Hickman unearths alarming truths in each destination he visits. His revelations are peppered with statistics, such as "one typical cruise ship produces the same amount of emissions as about 12,000 cars"; "the annual water consumption of a whole [golf] course could reach one million cubic litres – the same as a town with a population of 12,000 inhabitants"; and "12% of all the world's tourists each year come to the Alps".
Hickman discovers that many issues are common to each destination: the scarcity of water and the potential threat posed by the massive growth of tourism. He also devotes a chapter to the growth in aviation, the world's
fastest-growing source of human-made CO2 emissions. Again, another numbing statistic: "A jumbo jet flying from London to Dubai emits 180 tonnes of carbon dioxide on a one-way trip, which is equivalent to the lifestyle-related emissions of 18 average UK citizens in an entire year."
In exposing the dangers of tourism in multiple destinations, Hickman risks the ennui of one long rant, but there is much more to this insightful book than that. It is an elegantly written, well-researched, investigative travelogue that provides a valuable eye-witness account of the way holidays can impact – positively and negatively – on their destinations: environmentally, socially and economically. We learn how tourism can be harnessed as a force for good: how homestays in Kerala, for example, can benefit both visitors and local communities, and how socially inclusive tourism in Costa Rica has proved a winning formula for the sensitive development of small-scale luxury holidays.
Hickman also offers a few suggestions for managing tourism better. He suggests self-rationing of long-haul flights and advocates the introduction of tourism quotas, including an intriguing idea suggested by the Centre for Future Studies in which sensitive destinations introduce a lottery-based entrance system whereby a cap on visitor numbers would limit the damage caused by overcrowding. As for the carbon emissions associated with flying, Hickman believes that every holiday, like everything else, should include a carbon cost embedded in its price tag. On an even more sophisticated level, he suggests that water use could also be priced into our holidays.
By offering solutions to tourism's ills, Hickman demonstrates that he isn't against tourism per se; he is against badly managed, cynical, corrupt, exploitative, environmentally destructive tourism. The Final Call reveals serious failings in the tourism industry – an industry with which we're all familiar yet seldom analyse – but importantly, it arms the reader with a greater understanding of how to make more informed choices about where and how to holiday.
Places to Stay and runs greentraveller.co.uk