A Bouquet of Thought
Donate Now
Issue 247

Mar/Apr 2008
Long Live Biodiversity!
Reviews
A Bouquet of Thought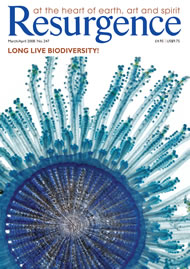 Cover: Blue button jellyfish. Photograph: David Liittschwager/ National Geographic
Tough Little Beauties: Selected Essays and Other Writings Stephanie Mills Ice Cube Press, USA, 2007, $16.95
THE TITLE OF radical ecologist Stephanie Mills' collection of essays refers to the lavender irises that flourish along the coastlines of the US and Canada's northern lakes Huron and Michigan. The tiny flowers are a threatened species against the growing onslaught of chemical pollution and fluctuating clime – and yet they are so hardy, year after year enduring icy blasts of Arctic air, stinging sands, and thunderous tumbles of snow. Digging deeper, the tough little beauties that lie before us are the essays themselves. Each is an ephemeral yet forceful burst of revelation; together, they gather into a bouquet of original thought.
One must always expect the original from this writer. She blossomed into the public eye in 1969 when, at a time when college campuses were fervent about US militarism and incursions into Southeast Asia, Mills came at the world from a different angle. She delivered her graduating class's valedictorian lecture at Mills College in Oakland, California on her personal decision not to birth children into a society so fraught with inequity, terror and death – and too many human beings. She has gone on to direct her considerable intellect towards such issues as mass technological society, civil disobedience and ecological restoration via five books and hundreds of articles and speeches.
Through it all, Mills' mentor has been the 19th-century American philosopher Henry David Thoreau, who honed his analysis of human society from the remove of a forest and a pond. The lineage shows. While the essays in Tough Little Beauties were penned over three decades and alight on such disparate topics as religious experience, birch trees, birth control, the collapse of civilisation, voluntary simplicity, and ambiguity, the timbre of Mills' voice never wavers. Like the source of her inspiration, she develops her thoughts in a self-fashioned surround of time and space that emulates that of another era; she draws wisdom and wonder from the delicacies of the natural world; and always, she views humanity's problems from perches slightly askew from those the rest of us conjure up to use.
Of note in this collection is 'The Journey Home', on the computer's erasure of place, the vagaries of re-
habitation, and the making of a homeland. Of note is 'Paper Birch', which melds the psychic tilt of seeking, the press of heavy boot against snow, and the gleam of whiteness of a birch tree into a prose-poem dedicated to awe. Of note is 'Is the Body Obsolete?', a pithy response to techno-evolutionists pushing for the ultimate takeover of digital intelligence and the subsequent end of embodiment. Of note is 'Fun While It Lasted', a lengthy piece written from the vulnerability of personal proclivities about the fast-approaching exhaustion of ready fossil fuels. Of note is 'Shuttling Between Wrath and Compassion', which calls upon slavery abolitionist Julia Ward Howe and poets William Blake and Allen Ginsberg to spin a heart-felt tribute to peace, Nature and motherhood. Of note is 'The Matrix of Solitude', an evocation of Thoreau's penchant for mindfulness and courageous action in the service of "wild possibilities".
Of note is every tough little essay in this hardy little book. For those of us who vigilantly inhabit the uncertain coastline between history and the future, this is a read for all seasons, for all bioregions, for all species. The uniqueness of Mills' writing springs from a psychic terrain we might describe as engaged distance. Or maybe it is wonder. At times it appears as irony. And always, equanimity. Whatever the inner residence of this unusual writer might be called, it serves. From it she reminds us that not only are floral beauties fragile and persistent but, despite all and no matter what, we are too.