ILLUMINATION
Donate Now
Issue 242

May/Jun 2007
Do we need God? / Food Futures
Web Exclusives
Article
ILLUMINATION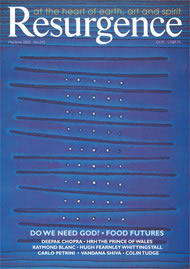 Cover: Tanhayee from Seeker, The Art of Sohan Qadri
Meditation and the art of amusement.
BORN ON 11TH FEBRUARY 1931 in Bury, Lancashire, Nevil Sattentau as a nine-year-old enjoyed going for long walks alone in the countryside. He feels he was born an ecologist, preferring the natural landscape of the Lake District and Scotland, to which his parents took him for their annual holidays to the industrial town he grew up in. He still enjoys walking, especially in the mountains.
Sattentau chose to study Forestry at Oxford, hoping this would allow him to participate in ecological pursuits rather than working in a conventional office job. After a year of the Forestry course, he found it too theoretical and switched to Medieval Studies, learning medieval Latin, French and English from scratch, having specialised in science at school.
When Sattentau was twenty-seven years old and living in Cambridge with his girlfriend and their son, he came across a book called What is Zen? which changed his life. After reading this book, he meditated daily for a year 'on the breath' and also did walking meditation. He recounts that he was relieved when his girlfriend went off with one of his friends, since she didn't share his new orientation at all.
By 1966, Sattentau felt the need to seek an organisation for meditation practice and joined the School of Meditation in London, attending meetings several nights a week. There in 1968 he met Nitsa and they were married in 1972.
Sattentau was particularly attracted to the meditation discipline of calligraphy as it was taught at the School of Meditation. He described it thus: "Arm outstretched at shoulder level, standing upright in front of the calligraphy easel; straight lines, circles, arcs, formed letters. Do that for one hour every day. Wow, that's some discipline!"
He remembers practising this by an open window, when the temperature was below freezing, in the Buddhist monastery of Samye Ling in Scotland. He was so absorbed that he didn't register the cold until the pen fell out of his frozen hand.
SATTENTAU IS A self-taught artist. Until Nitsa bought him a box of egg tempera paints on a whim in the late 1960s, he had never considered painting, although he had a good eye for the antique oriental rugs on which he spent most of his teacher's salary.
He showed his first painting to Knightsbridge carpet dealer David Fransis, with whom he had become friendly. Fransis liked it enough to pin it up in his shop, and he sold it the same day.
After this, Sattentau sold everything he produced. He was taken up by David Sylvester, an art critic friend of Fransis, who introduced him to various gallery owners including John Kasmin and Lord Gowrie. Kasmin bought one of Sattentau's paintings immediately and Lord Gowrie organised an exhibition of Sattentau's work at the gallery of Chelsea Rare Books, a prestigious venue in London. The exhibition sold out and had good reviews, and another sell-out show followed.
Sattentau was then introduced by Kasmin to Christopher Gibbs, the auction buyer for John Paul Getty Jr., who commissioned Sattentau to illuminate Coleridge's Kubla Khan. This took two years to complete and other commissions followed. Naim Attalah, a jeweller and the proprietor of Quartet Books and various literary magazines, then became Sattentau's patron for the next fifteen years.
By 1995, all such commissions came to an end and Sattentau moved out of microscopic illuminations and began painting on 75cm by 55cm sheets of paper.
Since the last vellum manufacturer closed down, Sattentau has used 300gm hot-press paper instead. He first makes a detailed pencil drawing which he covers with a light coat of glair (a mixture of egg-white and water). This prevents the graphite marks from smudging. Only then can he proceed to mixing his pigments with egg and applying the paint to the paper to give the recognisable brilliant colour and luminosity of this medium to his paintings.
Sattentau's highly disciplined approach to painting is equivalent to a meditation practice. Indeed, his whole life revolves around meditation, which he has done twice daily for the last forty years. Painting, for Sattentau, is also a form of entertainment, but essentially an attempt, usually frustrated, he feels, to create "a thing of beauty".
His latest painting, The Last Vegetable, shows a procession of beautifully executed figures, painted with jewel-like colours, which cavort across the paper and down towards the bottom right-hand corner, where a Milan Purple Top turnip can be seen.
Sattentau's figures are influenced by his earlier interest in Persian miniatures, and some are inspired by the Italian Renaissance artist Mantegna. Occasionally his figures are reminiscent of Brueghel's. Very often he includes calligraphic legends as borders or within the painting.
Most mornings, Sattentau paints after he has meditated for an hour in his studio. Often he returns in the late afternoon to continue working on a painting, after which he again meditates. He is like a medieval illuminator, standing at his upright table-easel in a studio the size of a monastic cell with light pouring in through the window.
THROUGH HIS RESEARCH into the authentic colours for restoring damaged antique Persian miniatures, and the illuminations he did on vellum for many years, Sattentau became very knowledgeable in the techniques of painting in egg tempera, gilding and the use of beautiful but expensive pigments such as lapis, vermilion, carmine, realgar, orpiment, cobalt and cadmium. Preparing these colours, and the whole technique, although extremely laborious, give him a sensual pleasure.
Sattentau feels there is a somewhat comic aspect to his work, and he aims to produce a "gentle, diffuse amusement which will last". He also expresses something much rarer, which is his understanding that any sense of wellbeing passes through, almost as an intrusion, in the neutral essence of his consciousness and could equally be a sense of pain or suffering much like different sounds passing through one's ears.
Sattentau paints in the hope that one day he will feel satisfied he has produced a work of true beauty and harmony.
For more information visit Nevil Sattenau's website www.nevart.co.uk