SCHOOL OF CARING
Donate Now
Issue 230

May/Jun 2005
Inspired Designs
Web Exclusives
Article
SCHOOL OF CARING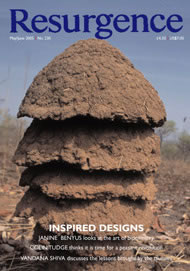 Cover: Termite mound with shape adapted to the very high rainfall of the highland area of Guinea, West Africa. Photograph: Anthony Bann
Learning at Brockwood Park is based on ecology and a sense of the sacred.
THE DAY AT Brockwood Park School begins with ten minutes of silence. All sixty students and thirty staff gather at 8.00am in the school's octagonal assembly hall to share the quiet moments. Silence plays an important part in the school day. Further moments of quiet are held before classes, meetings and other activities.
The school, which occupies an eighteenth-century house and several outbuildings set in forty acres in the Hampshire countryside, was set up in 1969 by the philosopher and educationalist J. Krishnamurti. Brockwood is one of a handful of schools established by him round the world, each with its own structure and role.
Brockwood is an international school, fully residential, catering for students from fourteen to nineteen years of age. They come from thirty different countries, and the mix of nationalities is kept deliberately broad.
Brockwood only takes older teenagers partly because of its aim of creating a small supportive community where the students learn to take responsibility for themselves and others, and where they feel sufficiently secure to engage in a serious exploration of issues that concern young people, such as fear, identity, sexuality and death.
Between the moments of silence, Brockwood is a lively, vibrant place. Students study a range of subjects, from languages to physics and fine art, with music particularly popular. Krishnamurti spoke about two streams of learning - one concerned with the accumulation of knowledge and skills necessary to live and make a living in the world, and the other to do with "the understanding with sensitivity and intelligence of the whole problem of living; the whole structure of human existence". Brockwood aims to ensure that the two streams flow in harmony.
Meanwhile, Brockwood attempts to implement two of Krishnamurti's other founding principles: that it should encourage a sense of the sacred - not in the sense of formalised religion, but in being open to what is beyond the limits of thought - and being close to nature, and learning to observe and care for the Earth.
Brockwood is blessed with being surrounded by glorious English countryside - fields, woods and rolling hills, and, right by the school building, an extended grove of exotic trees and shrubs. Brockwood also has a large organic vegetable garden - the school is vegetarian - and it puts much time and effort into growing fresh food to meet its needs.
All students take the course called Care for the Earth - a ninety-minute session a week where students study ecological and environmental principles, but where most activity is out of doors, either planting and caring for their own small garden plots, or in projects that the students devise for themselves, such as extending the grove, raising owls, or building shelters out of natural materials.
Just recently, three students have been converting an old storeroom into an 'eco kitchen' in a project sponsored by the Millennium Awards Commission and the Young People's Trust for the Environment. The students won a grant of £10,000 for their proposal for the kitchen, which uses solar panels for water heating and photovoltaic cells to generate electricity. They have built the cupboards out of recycled teak desktops, and the worktops out of wood from a cherry tree that had fallen in the grounds. They hope to supply the gas cooker with methane or ethanol generated on site some time in the future.
"The project has given me a lot of experience in things such as conservation and design, but also in things like how to apply for grants," says Peter Spence, one of the students who is studying geography, art and English literature.
CARE FOR THE environment extends to the school buildings themselves. Brockwood doesn't employ any cleaners - instead a half-hour per day is devoted to the cleaning and tidying of the school, with all members of the community taking part.
Some students have been so inspired by the study and experience of the natural environment that they have gone on to devote their lives to environmental activities. Suprabha Seshan came to Brockwood from a Krishnamurti school in India at the age of seventeen. She was already interested in ecology when she arrived, "but my interest in nature deepened while I was at Brockwood - there was a lot of space to explore it, and support from staff who are passionate about the natural world," she says.
After travelling and working on a number of environmental projects around the world, Seshan went back to India to work at the Gurukula Botanical Sanctuary in the tropical forests of Kerala where she is now the education and research co-ordinator. "But for me it began at Brockwood where I experienced an opening of the senses, and learnt the importance of being out in the wild," she says. Seshan maintains her links to Brockwood, and to other Krishnamurti projects in India, and the Sanctuary has become part of the Brockwood network.
Around seventy per cent of Brockwood students go on to higher education, both in the UK and in their home countries. Although the school does not make academic results its priority, many students achieve good grades, while in other cases students who have not achieved the required grades for certain courses have been able to persuade universities that the self-reliance, maturity and independence of thought they have learnt at Brockwood make them good candidates for college success.
Of Brockwood's 1,200 or so graduates over the past thirty-five years a significant proportion have gone into healthcare (either mainstream or complementary), education, and the performing and fine arts. Fewer have ended up as scientists, and still fewer have made their fortune in big business.
Krishnamurti believed that if through education young people could discover their talents and what they enjoyed doing, they would avoid much of the conflict and depression that can torment adult life.
Brockwood offers such opportunity. As former student Ashvin Kumar says, "Brockwood is a school where the arts are as important as the sciences, and where planting a tree is as important as solving an equation."
For further information tel: 01962 771 744 or visit www.brockwood.org.uk.