Inspired Designs
Issue 230 • May/June 2005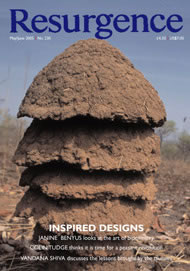 Buy a copy of this issue
Become a member and receive 6 issues a year
Contents
Key
Free for all to view
Free for members to view
Not available
Welcome
Feature Articles
We have the vision and resources to eradicate AIDS and poverty.
TIME FOR A PEASANT REVOLUTION • Colin Tudge
The industrialisation of agriculture creates mass unemployment, poverty and hunger.
Can responsible tourism sit comfortably with air travel?
Biomimicry offers us the opportunity to experience the genius of nature.
Houses that unite beauty and sustainability.
A Christian perspective on architecture.
THE ISLAMIC IMAGINATION • Emma Clark
Paradise is the garden where water flows.
A 'forest monastery' at Chithurst.
Bringing skills back from the edge of extinction.
Illnesses do not come out of the blue.
Dancing the soul of the world.
The spiritual traditions of the Altai people of Siberia are flourishing.
Ritual does us a power of good.
Regulars
Voice From The South

- TSUNAMI LESSONS • Vandana Shiva
Crafts

- CULTURE OF CLAY • Rebecca Yeo
Letters to the Editors
Poetry

- HOMAGE TO RILKE • Peter Abbs
Notes From The Underground

- SECOND-HAND • David Nicholson-Lord
Notes From The Underground

- SECOND-HAND • David Nicholson-Lord
Frontline
Reviews
In My Own Words: THE ECOLOGY OF SELF-REFLECTIO • William Bloom
THE FLOATING WORLD • John Lane
Review of Hokusai
A BEACON TO DISPEL THE GLOOM • Chris Hall
Review of Joys: Passages from the Works of Thomas Traherne
Review of The Essential Ananda K. Coomaraswami
Review of Heresies: Against Progress and Other Illusions
EQUITY IS SURVIVAL • Mark Lynas
Review of How We Can Save the Planet
Review of Cities People Planet
A LIVING TRADITION • Nick Jones
Review of The Floss on the Mill
Web Exclusives
Staying human by writing poems.
Just another blot on the landscape or a valuable aesthetic and wildlife habitat?
Learning at Brockwood Park is based on ecology and a sense of the sacred.