ARTISTIC SPONTANEITY
Donate Now
Issue 241

Mar/Apr 2007
Urban Ecology
Web Exclusives
Review
ARTISTIC SPONTANEITY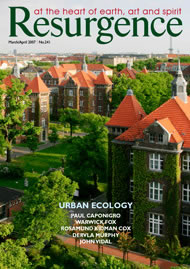 Cover: Clinical Centre Westend, Germany Photograph: M.Haddenhorst/Still Pictures
Archetypal Postures: In the Process of Creativity, Ian R. Hopton. La Fontbelle Press, 2005, £15.00
I WAS ONE of many unfortunates who failed to be taught by Cecil Collins, arguably the greatest visionary artist since William Blake. By 1985, when I hoped to enrol in his class at the City Literary Institute in London, Collins' reputation as a truly inspirational and gifted teacher had created such a following that intending students would queue all night for the slim chance of enrolling in his class. As I discovered, demand outstripped the possibility of supply.
Ian Hopton was among the fortunate: already attending a class at the Institute, he heard early of the life drawing classes conducted by Collins, and enrolled before the cult status of the later years began. We are fortunate that Hopton kept a record of his experiences. His account of a typical class and of the highly individual methods Collins used in the service of creativity are of great value to art historians and to all who yearn to express spontaneous creativity in visual form.
Collins was born in Devon in 1908. Following art colleges (Plymouth and Royal College of Art) he was welcomed in 1936 into the artistic community at Dartington College, Devon, where he would later teach. During the post-war years he regularly exhibited in prestigious London galleries and in 1951 joined the teaching staff of the Central School of Art in London. From 1972 he also taught at the 'City Lit', as the City Literary Institute is fondly known. Collins inspired such extraordinary loyalty that when each of these schools attempted to forcibly retire him for reaching an age beyond its contractual norms, such passionate student demonstrations ensued that each school recanted, and Collins continued to teach. In 1979 he was awarded an MBE for his contributions to art. 2008 marks the centenary of his birth.
A deeply spiritual man, Collins experimented with ways to encourage creative spontaneity and free expression: to drop the barriers between the seer and the seen. He recognised the limiting human tendency to lose the present moment in recollection or anticipation. The more effective of his experimental methods were incorporated into his classes. Hopton tells how Cecil required his class to adopt a highly disciplined sequence of postures, to be executed with solemn reverence and no little discomfort by model and students alike. This ceremony evoked in each participant a vivid inner experience that would be swiftly captured in visual form. At times Collins would ask his class to use the tools and media more often associated with classical Chinese brushwork, employing these instruments with one or both hands, the feet, the mouth; and all at great speed, to bring immediacy to the visual expression of the model before the class. Collins' work and teaching enabled his students to experience and express universal imagery by accessing divine nature through the creative process.
Archetypal Postures is a personal expression of Collins' teaching through description and depiction. From the powerful imagery of Hopton's collographs – inspired by participation in a set of ritual postures with Collins' class – to the quotations from Collins's published writings; from the thorough explanations of the drawing instruments and their use, to the descriptions of a typical 'City Lit' class, it informs and delights.
"Images arise from the fountain head of human life, the heart, the solar centre, from ancient memories within the blood, and from the polarity and fire of the spirit."

– Cecil Collins: Hymn of Life