Natural Abundance
Donate Now
Issue 248

May/Jun 2008
The Money Delusion: In Search of True Wealth
Frontline
Natural Abundance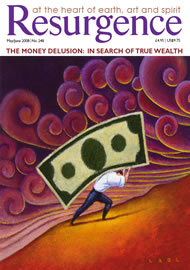 Cover: Burdened with debt. Illustration: Images.com/corbis
Harvesting the city orchards.
SHEFFIELD MAY NOT be known for its abundance of fresh fruit and vegetables, but a group of local artists and activists want to change this. Grow Sheffield is a local initiative which aims to celebrate urban food growing, harvest and distribution, and bring people together to exchange ideas on local food and increasing productive land in the city. It works with local growers, artists and arts organisations to co-ordinate a range of events and activities framed within the wider perspectives of climate change, carbon emissions and food miles.
One of these projects – and perhaps the most intriguing – is the Abundance project. Grow Sheffield's founders Anne-Marie Culhane and wild-food expert Stephen Watts decided to set about harvesting abandoned and unwanted fruit and nut trees across Sheffield and sharing the bounty with others. They found greengages, pears, plums, damsons, quinces, medlars, hazelnuts and almonds and many varieties of apple scattered through the city. Down by the banks of the river Don were peaches, apricots and figs. They noticed the waste as apples fell into gutters to be run over by cars, and they recruited a team of harvesters and encouraged an ever-widening circle of people to report fruit trees in need of harvesting.
Word spread through the city, and as tips came in they found red apples among bizarre industrial ruins, greengage trees laden with hundreds of syrupy globes, and box after box of blushing Lord Grosvenor apples. Plenty of fruit was left for birds and wildlife, and the rest distributed to nursery children and their parents, community centres and community cafés. In domestic gardens, the first share was offered to the owners. A wooden display cart was commissioned from local craftsmen to show people in the city centre the beautiful varieties that Sheffield produces and to give it to them for free.
Normally such fruit goes unnoticed, or people can't manage the glut or simply don't care. Abundance's response to such dulled expectations is a life-affirming community one. The art lies in the shocking reality of fresh-picked fruit, a show of new awareness and an indirect political and economic critique. Abundance is still finding and mapping more trees and passing on stocks for storing over winter and making preserves, juices and cider. Abundance is ever thankful for the citizens of Sheffield who over the last 100 years had the foresight to plant fruit and nut trees. Volunteers are now learning pruning techniques so that they can tend and nurture the discovery of a city that suddenly reveals itself as an orchard in bloom.
For more details on Abundance and other Grow Sheffield activities, see
www.growsheffield.com or contact Anne-Marie on 0784 9073394 or mail@amculhane.co.uk
With thanks to Anne-Marie
Culhane and Wayne Hill.