The Money Delusion: In Search of True Wealth
Issue 248 • May/June 2008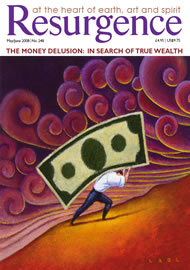 Buy a copy of this issue
Become a member and receive 6 issues a year
Contents
Key
Free for all to view
Free for members to view
Not available
Welcome
The true value of wealth.
Frontline
Farming for a Future • Tim Wigley
Natural farming in South Africa.
Peace returns to parts of the Congo.
Highlighting the dangers of nuclear pollution in Russia.
Harvesting the city orchards.
Quotes
Cultivating the seeds of compassion.
Keynotes
Greens may have to compromise their beliefs.
The Other Carbon Economy • Vandana Shiva
There is an alternative to be found in biodiversity.
Peace with the Planet • Al Gore
We must mobilise our civilisation, as if for war.
The Money Delusion
Enlightened Economics • Colin Tudge
Reconstructing a fair economy.
Investors are under little pressure to consider the environment.
Compound interest runs contrary to the laws of Nature.
Uncovering the mystery of money creation.
Undercurrents
Rethinking the fundamental system on which we build our world.
An interview with Charlie Murphy.
Supporting community development with renewable energy.
Holidays need not cost the Earth.
In addressing tiredness we address the problem of unsustainability.
What can I do to help change the world?
Introducing the Appledore Visual Arts Festival.
Regulars
Short Story

- Assembly Line • B. Traven

When wanting more then enough means that there is never enough.
The Long View

- Horace and Fishponds • Harry Eyres

The limits of Plutocracy.
Pioneers

- A SHINING LIGHT • Fran Johnson

Maria Montessori's vision lives on.
Letters to the Editors
Poetry

- A Tribute to Anna Adams • Peter Abbs

Eco-poetry: earth must rebel or die.
Gardening

- NATURE'S CURE • Paul Rogers

The rigours of life find their antidote in the greenhouse and garden.
The Arts
The mundane is sublime.
Reviews
Review of Thrillcraft: the environmental consequences of Motorized Recreation, edited by George Wuerthner.
Review of Nature and the Human Soul: Cultivating Wholeness and Community in a Fragmented World.
Review of My World, My View.
Review of In Her Element: Women and the Landscape, edited by Jane McNamee.
Review of The Lost and Left Behind: Stories from the Age of Extinctions, Terry Glavin.
Review of In Defense of Food: An Eater's Manifesto, Michael Pollan.
Review of Spiritual Compass: The Three Qualities of Life, Satish Kumar.
Review of Water: Life In Every Drop, Julian Caldecott.
Review of The Underlying Religion: An Introduction to the Perennial Philosophy, edited by Martin Lings and Clinton Minnaar.
Review of The Craftsman, Richard Sennett.
Review of Back on the Fire: Essays, Gary Snyder.
Review of The Science of Leonardo: Inside the Mind of the Great Genius of the Renaissance, Fritjof Capra.
Web Exclusives
The Paintings of Daniel Chatto.
The importance of imagination and intuition.
Happiness that doesn't cost the Earth.
An interview with Satish Kumar