Slow Skills
Donate Now
Issue 248

May/Jun 2008
The Money Delusion: In Search of True Wealth
Reviews
Slow Skills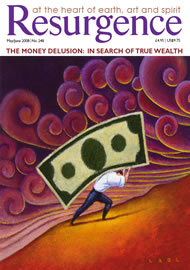 Cover: Burdened with debt. Illustration: Images.com/corbis
The Craftsman Richard Sennett Allen Lane (Penguin), UK, 2008, £25.00
I WAS DRAWN to this book by my belief that we can learn much from craft: that craftsmanship has much to teach about themes as diverse as organisation, politics and parenting. I was delighted to find that I share some of this ground with the book's author, Richard Sennett. "The great teacher", he says, "unsettles, bequeaths disquiet, invites argument." The Craftsman is a book by someone who is prepared to set about unsettling and inviting argument on a grand scale. It is a substantial work, and the first of three studies by Sennett on the topic of material culture. I imagine all three volumes will challenge and offer hope. This volume does so in a scholarly manner.
Sennett sees craftsmanship in fields including medicine, computer programming, cooking and art. At the heart of this skilled practice he places a particular and intimate connection between hand and head, a dialogue between practice and thought that evolves into "sustaining habits". Craftsmen "take pride most in skills that mature," he writes. "Slow craft time…enables the work of reflection and imagination…one takes lasting ownership of the skill."
The first part of the book explores the story of the artisan, from the medieval workshop through to the machine age. Sennett seeks to explain how today our social institutions depress, ignore and misunderstand those "who seek to be good craftsmen".
The second, and in my view most successful, part of the book is powerful reading: I would like to recommend it to all educators, managers, leaders and policymakers. Drawing on sources from the Suzuki violin method to tool-
making, Sennett explores the learning and development of skills. Here is learning that recognises "the slow, probing touch of materials at the fingertips that eschews instant false security".
In a wonderful section on cooking, Sennett demonstrates the value of expressive form in learning craft: "show, don't tell" is the message beautifully represented in this chapter. Further sections consider fixing and repair, the place of leaping domains and intuition. The section on boundaries, resistance and ambiguity offers ideas critical to improvisation in any area of life. "We develop skills at the live edge," he argues. I am with him: the more we draw on these techniques, the more we gain the craftsman's emotional reward, "the sentiment of competence".
The later parts of the book are briefer but filled with important material. Sennett's examination of 'social' and 'anti-social' expertise warrants consideration in leadership courses. His treatment of the dangers of obsession, told through the tale of Wittgenstein's house, leads to some very accessible guidance on managing destructive perfectionism.
Above all, this section is optimistic. We all have the capacity for craftsmanship. The main threat to craftsmanship is not ability, but having the motivation drummed out of us by societal mismanagement of the drive to do good work. There is a powerful challenge in here to all of us who teach, lead and organise.
Of course this book is not beyond criticism. Sennett occasionally quotes Gregory Bateson – and like Bateson, he roams across time and across domains in a way that can be confusing. He ranges from Linux communities to cookbooks, from glass-blowing to management theory. Can we trust his views across such a vast canvas? His claim that modern managers and business schools "sing the praises" of Tom Peters' In Search of Excellence shows he is incredibly out of touch with management thinking. The book is over twenty-five years old and is rarely given credit in management scholarship. This kind of slip makes me uneasy about accepting Sennett's claims in fields I know less well.
Above all, though, my fear is that this book is written in too scholarly a style to attract as wide a readership as the topic deserves. But it remains a book that needs to be read carefully, covering themes that we need our leaders, teachers and politicians to reflect on deeply.
Popularisation, though, is not Sennett's aim and I cannot criticise him for not writing the perfect book. The great teacher may be one of his guiding Masters, but another is the club-footed God of Crafts, Hephaestus, "proud of his work, if not himself". Has Sennett offered us a well-crafted work? Yes, I think so, and an important one. I recommend it.