Music for Transformation
Donate Now
Issue 249

Jul/Aug 2008
Music for Transformation
Welcome
Music for Transformation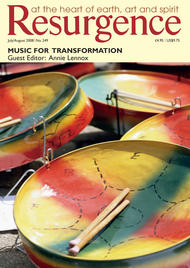 Cover: Minature steel drums in a craft market Tobago Photograph: Anna Watson/Axiom
Issue availability
MUSIC FOR TRANSFORMATION Music is the undercurrent to our collective subconscious; it reflects the zeitgeist. Musicians make music, but above all, they make things happen.
SATYAGRAHA IS THE title and the message of Philip Glass's extraordinary opera which has been playing to packed houses in New York and London. In Sanskrit Satyagraha means 'power of truth'. Gandhi coined the word and used it as a focus for his great struggle against racial discrimination in South Africa.
This marriage of opera with a freedom movement is part of the long history of musicians who have offered their talents for social, political and spiritual renewal. Satyagraha, the opera, is a subtle and contemplative homage to those who struggled for liberty of the human spirit. The New York Times spoke of the magical effects of this hauntingly mystical production and called it "a work of nobility, seriousness, even purity".
The power of music is transformative. The moment we hear a sound, sing a song, chant a mantra or play a note we are transported into a different world: a world of transcendence, a world of compassion, of unity, beauty and generosity, a world of healing and harmony, a world beyond division and discord, a world of freedom and peace.
When I was walking for peace in the sixties I met the young Joan Baez who sang in praise of nonviolence while the war in Vietnam raged and nuclear weapons proliferated. She was not alone. Bob Dylan, Leonard Cohen, Joni Mitchell, the Beatles and others of their generation were inspiring millions of young – and not so young – social activists working for peace.
When the people of Bangladesh were fighting for freedom, musicians such as John Lennon, George Harrison and Ravi Shankar came to their aid by playing to an audience of thousands in New York. They moved the minds and hearts of the world and helped to bring freedom to Bangladesh.
Not only popular folk singers but also classicists such as Ravi Shankar and Yehudi Menuhin joined forces, transcending the divisions of East and West, Hindu and Jew, and playing at the UN for peace in the world. Menuhin was an early supporter of Resurgence. And in 1976 he gave a concert in the Roundhouse, London to celebrate the tenth anniversary of our magazine. He was introduced to the audience by E. F. Schumacher, who called him "a hero of the ecology movement". At that time Menuhin drove an electric car and generated his own electricity from a wind turbine on his house in London.
More recently, Bob Geldof, Bono, Sting, Annie Lennox and a host of other international musicians have put their music where their mouths are. They persuaded politicians and the media to pay attention to the causes of Africa, Third World debt, the environment and global warming. Their world-shattering sounds were heard from Berlin to Beijing, and from London to Lagos.
These musicians who mix entertainment with inspiration are only a tip of the iceberg. Throughout history, rebellion and music of devotion have gone hand in hand. In India a Sufi singer, Kabr, challenged every kind of orthodoxy that you can imagine. And in our own time Tim Smit has created an alchemy of music and conservation at the Eden Project.
As music is a source of social activism it is also a foundation for spiritual renewal. Through music we can transcend all division, disconnection and separation. Religious traditions put music at the heart of their rituals and celebrations. For Hindus, the word for sound and for the Earth is the same: Gaya, similar to Greek Gaia. Earth is made of sounds. There is a well-known mantra, Gayatvia Mantra, which is the mantra of the Earth and of the sound. World-renowned Hindu book of philosophy and yoga Bhagavad-gita means 'song of the Lord'; here the Lord is flute-playing Krishna, the harbinger of harmony and wholeness.
The Dalai Lama devotes an hour every day to Tibetan overtone chanting of ancient Buddhist as well as Hindu mantras. He is the champion of the World Sacred Music Festival, which is dedicated to the re-enchantment of the Earth.
Of course, singing of hymns and sounds are an integral part of Christian worship. It is hard to imagine a church without an organ and a choir and even harder to imagine Christmas without carol singing.
Be it religious, classical or folk, music is the universal language of transcendence and transformation. Even birds sing and bring joy to existence, and sweet sounds of flowing water bring calm to all beings. It is no wonder that music is so fundamental to our happiness. We forget the transformative and healing power of music at our peril.
For this reason we invited Annie Lennox, a much-loved musician and a great supporter of Resurgence, to edit a special feature on Music and Meaning. So we dedicate this issue to activist musicians of the past, present and future who have committed themselves to the wellbeing of the Earth and its people.
SATISH KUMAR