Music for Transformation
Issue
249

• July/August 2008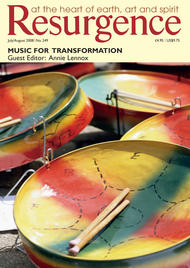 Buy a copy of this issue
Become a member and receive 6 issues a year
Contents
Key
Free for all to view
Free for members to view
Not available
Welcome
Music is the undercurrent to our collective subconsious.
Frontline
A climate-friendly transport initiative.
The successful defence of the 'Merton Rule'.
Tackling and preventing HIV.
Addressing climate change through the arts.
Quotes
If I cannot sing and dance.
Music For Transformation
Music is a wonderful gift to humanity.
Musical traditions need both openness and protection to evolve.
Singing connects us to our feelings.
Dartington Summer School nurtures the alchemy of music.
Music, like Nature, is made up of harmonic patterns.
Music inspired by the sounds and force of Nature.
A new approach to teaching music.
Acapella: the joy of making a beautiful sound.
Music with a message.
Undercurrents
Nature is being re-examined by modern writers.
Nurturing the soil for future generations.
Climate Change
An introduction to the Cape Farewell Project.
The sublime wonder of sea ice.
Climate change even affects our religious beliefs.
The changing nature of Antarctica.
Regulars
Corporate responsibility for pollution.
A remarkable feeling of adventure.
Community-supported agriculture.
Celebrating the summer harvest.
Living on the land.
Resurgence Slow Sunday.
Reviews
Review of Thousand Mile Song: Whale Music in a Sea of Sound.
Review of The Creative Gap.
Review of Sound Intelligence - A New Language of Consciousness.
Review of Musicophilia: Tales of Music and the Brain, Oliver Sacks.
Review of Getting a Grip: Clarity, Creativity and Courage in a World Gone Mad, Frances Moore Lappé.
Review of The Seventh Decade: The New Shape of Nuclear Danger, Jonathan Schell.
Review of Real England, Paul Kingsnorth.
Review of Blackness and the Dreaming Soul, Cy Grant.
Review of Wendell Berry: Life and Work, edited by Jason Peters.
Review of Black Mass: Apocalyptic Religion and the Death of Utopia, John Gray.
Review of Koudelka, Robert Delpire | Dominique Eddé | Michel Frizot | Anna Fárová
Review of The Earth Only Endures: On Reconnecting with Nature and Our Place in It, Jules Pretty.
Review of Field Work: Selected Essays, Ronald Blythe.
Review of Stuffed and Starved: Markets, Power and the Hidden Battle for the World Food System, Raj Patel.
Review of Trickster Makes This World: Mischief, Myth and Art, Lewis Hyde.
Web Exclusives
Review of Sticks, Stones and Mud Homes: Natural Living, Nigel Noyes
It's easy to make proper bread if you give it time.
Idealism and Inspiration