Artists' Project Earth
Donate Now
Issue 249

Jul/Aug 2008
Music for Transformation
Frontline
Artists' Project Earth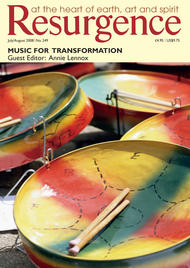 Cover: Minature steel drums in a craft market Tobago Photograph: Anna Watson/Axiom
Issue availability
Addressing climate change through the arts.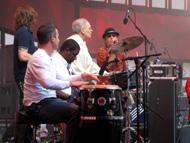 Rhythms Del Mundo Courtesy: Kenny Young
WHETHER IT BE George Clooney charming Gordon Brown into a Darfur strategy meeting, or Bono beseeching George W. Bush to forego his budgetary limits for Africa's poverty and AIDS victims; Radiohead's Thom Yorke confronting Brussels bureaucrats on climate change, or Jack Johnson helping teach young people about marine pollution, there is little doubt that artists, musicians, actors and writers all have a significant impact when it comes to raising awareness of social issues in our global society.
Why is this the case? Why don't other professions rally to the cause, for example, 'Hedge Fund Managers for Wildlife'? It is usually the case that it is the artists – in the broadest sense of the word – who campaign against the fur trade or nuclear weapons, or who support social injustice or global warming projects. Is this simply because artists attract the media? Or is it because the role of the arts is to move us beyond the self, to initiate a deeper level of conscious awareness?
With this in mind Kenny Young, recipient of the United Nations Global 500 Award for "outstanding achievements in the protection and improvement of the environment" invited a few 'climate-savvy' colleagues – including George Monbiot, Mark Lynas, Caspar Henderson, George Marshall and Herbie Girardet – to join him in establishing a charity called Artists' Project Earth (APE). APE was founded on a sunny afternoon in early 2006 in Oxford, UK. Its remit is to work with artists, musicians and writers to raise awareness of the issues of climate change, but also to financially support the myriad inspiring 'grassroots' solutions to these problems and provide help for those affected by natural disasters.
The first album that APE produced, Rhythms del Mundo, was a collaboration between members of Havana's famous Buena Vista Social Club and popular 'Western' artists including Coldplay, Jack Johnson, Kaiser Chiefs, U2, Arctic Monkeys, Sting and Franz Ferdinand. Within a year, this fund-raising album had found its way into stores and establishments in sixty-five countries around the world and onto online sites. Its message has resonated in hundreds of thousands of people's homes: that we have to acknowledge the huge impact we are having on the planet and that there are a myriad of practical and sustainable ways of reducing that impact. The album has achieved
platinum and gold sales status in many countries and in so doing has raised much-needed funds for a diverse array of projects.
To date APE has supported over sixty different organisations worldwide, including the Global Coral Reef Alliance, which works with communities to protect coral reefs and help local people to adapt to future changes. APE has also funded The Lace Project in Sri Lanka, which is helping to secure the future of the women lace-makers in the aftermath of the Indian Ocean tsunami. Other projects such as the Low Carbon Communities Network, which aims to co-ordinate all those actively working towards a post-oil society, and Plane Stupid (which has been part of the recent Heathrow Climate Camp initiatives) have also received support.
Perhaps asking why it is the 'artists' who raise their voices above the rest of the crowd will stimulate other professions to start global movements of their own. In the meantime the next APE album is currently in production. So, let the artists sing the songs, paint the pictures and catch our imagination, helping to raise awareness of the interconnectedness of all life on this planet.
For more information on the projects APE has funded, including Relief for Burma, or details of the album Rhythms Del Mundo, visit
With thanks to Kenny Young, Founder of APE, for help with this article.