Intense Images
Donate Now
Issue 249

Jul/Aug 2008
Music for Transformation
Reviews
Intense Images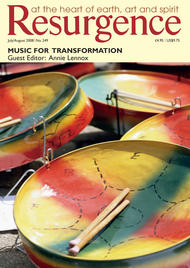 Cover: Minature steel drums in a craft market Tobago Photograph: Anna Watson/Axiom
Koudelka With texts by Robert Delpire, Dominique Eddé, Michel Frizot, Anna Fárová and others Thames & Hudson, UK, 2006, £48
EVERY DAY, EVERY minute, countless photographic images are being recorded. In every country people are taking photographs; yet those of merit – those not merely ephemeral or of a purely personal nature – are few. The number of significant photographers is also limited. I discovered the work of Josef Koudelka by accident. It was in 1984 in London's Hayward Gallery, where I had gone to see an exhibition of Matisse paintings; but it was Koudelka's photographs, shown alongside the paintings, that astonished me. His stark and singularly intense images, bursting with visceral energy, took me by storm.
Koudelka is the first book to present a collection of his finest images in a single volume. It's an expensive book, but the photographs are superbly reproduced in the duotone process and there are 158 of them. This volume is, in effect, an overview of the images of one of the finest photographers at work today.
The book is divided into seven sections, each featuring a different theme. Here are Koudelka's justly famous pictures taken in the streets of Prague in the dramatic days of August 1968 when Russian troops occupied the city. He was then centre stage with his camera as the tanks rolled into the city, photo-
graphing mass demonstrations and the confrontations between protesters and invading soldiers. Smuggled out of Czechoslovakia soon after the invasion, Koudelka's stunning black and white pictures were widely influential in the West, and remain the definitive images of those tumultuous days.
Here, too, are the marvellous studies of Slovakian and Czech Republic gypsies which are, I suggest, probably his most arresting works. One shows a seated figure and his horse; another, a dead woman in her coffin surrounded by her family; a third, a handcuffed youth in front of a crowd of people. Why are these stark images so moving? Their brutal honesty must be part of it, as is their melancholy poetry.
Some of Koudelka's most remarkable images are in a section called 'Exiles'. Not easily described, often haunting, each photograph is unforgettable. One shows a dead crow pinned to a line; another, an old sisal mat lying in a field of tall, wiry grasses; another, a shadowy alleyway. These are photographs at once eerie, vivid, disturbing and astonishingly beautiful.
Each one of the plates in this book exhibits Koudelka's sheer technical virtuosity – his control of lustrous blacks, intense whites and all the tones in between; and, too, his command of starkly voluptuous textures and precise composition – but that is far from all. The humanity of the photographs reminds me of the operas of his compatriot Leoš Janácek, whose work also stretches the emotions to near
breaking-point.
Our world can be seen in many different ways, and Koudelka reveals the extremes of beauty in familiar and well-travelled scenes. He has a vision as original and distinctive as that of any other artist I know.
The book contains a series of rather pretentious essays, a chronology, a bibliography and a list of exhibitions; but it is the photographs which count.
John Lane is a writer and painter. His most recent book is The Spirit of Silence.