A Sense of Place
Donate Now
Issue 249

Jul/Aug 2008
Music for Transformation
Reviews
A Sense of Place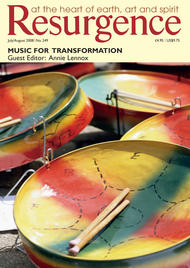 Cover: Minature steel drums in a craft market Tobago Photograph: Anna Watson/Axiom
Field Work: Selected Essays Ronald Blythe Black Dog Books, UK, 2007, £16.99
COLLECTED ESSAYS CAN sometimes suffer from diffuseness of subject-matter, but this is not the case with Ronald Blythe's latest anthology. He is best known for his portrait of the East Anglian village 'Akenfield', so it is appropriate that the thirty-
seven pieces gathered here are unified by their powerful evocation of the spirit of place. Blythe also pays tribute to the people who loved and recorded their own particular places, enabling others to love them too.
He rejects the negative connotations of the term 'parochial'. In his essays on Adrian Bell and T. F. Powys he suggests that the parishes they describe – one real, one fictional – serve as symbols of the greater world, just as Dame Julian of Norwich, another of his subjects, mystically perceived the whole of God's Creation in "a little thing, the size of a hazelnut".
Blythe's own place is the Suffolk farmhouse which previously belonged to his friend John Nash. Two of the essays are devoted to Nash. The first celebrates the farmhouse and its setting: Nash was a brilliant botanist who saw himself as "an artist-plantsman" rather than a gardener, and Blythe sensuously conveys the Edenic abundance of the surroundings. The other essay compares and contrasts John with his brother Paul, setting them in a wider historical and cultural context: Sir Thomas Browne, Eric Gill, the Aldeburgh festival, and Imogen Holst, to whose memory Blythe dedicates the volume.
Complementing this second essay is a fascinating review of an exhibition on aspects of agriculture in art, held in the late 1980s. This Land is Our Land focused on the countryside as a place of work: 18th-century painters, for instance, celebrated advances in animal breeding through portraits of "immense pigs and sheep", while Thomas Hennell recorded the transformation of Britain's landscape by the plough during the Second World War.
A number of the essays describe well-known settings. Coleridge's Nether Stowey, Hardy's Dorset, Gilbert White's Selborne, Constable's Stour Valley and Kilvert's Welsh border country all take on a fresh perspective thanks to Blythe's combination of extensive scholarship and observant eye. Then there are figures rather less familiar, at least to this reviewer: Julian Tennyson, whose explorations of East Anglia resulted in the rural classic Suffolk Scene (1939) and the "photographer-poet" P. H. Emerson, cousin of Ralph Waldo, who was inspired by the Norfolk Broads.
Although Blythe concentrates on East Anglia, where he has spent most of his life, he is equally sensitive to the atmosphere of other parts of Britain. His writing captures the remoteness of Romney Marsh, the space and freshness of the Orkneys and the brooding heights of Cader Idris. Indeed, he opens the collection with an essay on the healing influence of landscapes.
The essays present a world which is deeply attractive, but which stops short of pastoral, as Blythe makes us aware of the various destablilising forces at work. There is the second nuclear reactor proposed for the Suffolk coast at Sizewell and, a few miles north, the marine erosion threatening the hamlet of Covehithe; the rural poverty noted by Kilvert and Rider Haggard, and the
inter-war agricultural depression which Bell and Tennyson described. War is a recurrent presence: the Napoleonic Wars which spurred construction of Romney Marsh's Royal Military Canal; the Great War of 1914–18, which the Nash brothers endured, and the Second World War, which saw the destruction by bombing of Dame Julian's church in Norwich and the deaths of Tennyson and Hennell.
This collection called to my mind three favourite writers who are not discussed in it. Its sense of the history which local landscapes embody made me think of Richard Aldington's expeditions through Berkshire in Life for Life's Sake, while Blythe's love of walking reminded me of Herbert Read's poignant essay A Dearth of Wild Flowers. Above all, these essays stand in the tradition of
H. J. Massingham's travel books, with their blending of landscape and literature, agriculture and Anglicanism, and their special fondness for Thomas Traherne. In this tradition, God is revealed in Nature and worshipped through farming and craftsmanship; Blythe deserves our gratitude for so knowledgeably conveying its riches in our own time.
Philip Conford is an Honorary Research Fellow in the Department of History, Reading University.