Members' Page
Donate Now
Issue 249

Jul/Aug 2008
Music for Transformation
Regulars
Members' Page
Members' Page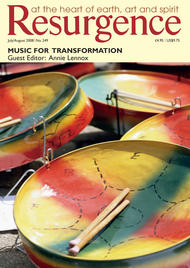 Cover: Minature steel drums in a craft market Tobago Photograph: Anna Watson/Axiom
Issue availability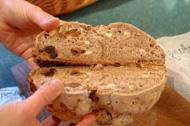 Photograph: Sophie Poklewski Koziell
In March we launched The Resurgence Trust membership scheme and we're delighted with the positive response we've had so far. A wholehearted 'thank you' for all your support.
The Resurgence Trust membership scheme takes its inspiration from two of the most profound philosophies of our time - Schumacher's 'Small is beautiful' and Gandhi's 'Be the change you want to see in the world'.
We believe that big change is possible through small, meaningful actions at a local level. It is only by changing our immediate environment that we can pave the way for change on a larger scale. In other words, we can make the world a better place, but it will only happen when large numbers of people join together and practise what they believe in. So let's do it!
Resurgence Slow Sunday
We are pleased to announce the launch of the Resurgence Slow Sunday. In each issue of the magazine we will nominate one Sunday when we will invite our members to take part in simple actions that symbolise a rejection of commercialism, a passion for the planet and a desire for change. The more people join in and embrace the ethos of Slow Sunday, the greater the impact, so invite friends, neighbours and your local community to take part in your Slow Sunday celebration.
The first Slow Sunday will take place on: July 27th 2008A simple action: Bake bread - for yourself, your friends, your neighbours.
Why bake bread?
Mahatma Gandhi in India made spinning an act of defiance, the spinning wheel became the symbol of the independence movement.
Similarly, good bread should become a symbol of environmentalism.
Bread diversity is a symbol of cultural diversity. Regional varieties represent grain diversity as well as diversity of style.
Baking bread is an act of meditation. Through this simple action we are able to slow down, pay attention and reconnect with tradition. It is something to share and to celebrate.
CONNECTING WITH OTHER MEMBERS
We also want you to share your ideas and experiences with other members. Perhaps there are people in your area who would like to join in so that it could turn into a larger community event. Why not put a notice in the local paper? If you are a local baker, why not run a bread-making workshop for the local community? If you've found an age-old recipe for a traditional regional loaf - why not share it with other members? For more information on how to do this go to http://www.resurgence.org/trust/slow-sunday.html
JOIN US!
If you are already a subscriber, joining The Resurgence Trust membership scheme is easy. It doesn't cost you a penny extra as you will simply be converting your annual subscription into an annual membership (so you will continue to receive your copy of Resurgence, as usual).
To find out more email us at members@resurgence.org.