Grounded Design
Donate Now
Issue 249

Jul/Aug 2008
Music for Transformation
Web Exclusives
Review
Grounded Design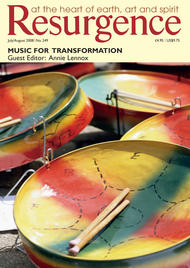 Cover: Minature steel drums in a craft market Tobago Photograph: Anna Watson/Axiom
Sticks, Stones, Mud Homes: Natural Living, Nigel Noyes, Hardie Grant Books, Australia, 2007, £22.50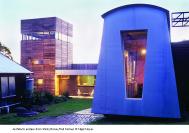 Photograph: Sticks, Stones, Mud Homes Nigel Noyes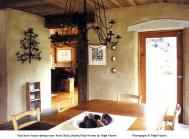 Photograph: Sticks, Stones, Mud Homes Nigel Noyes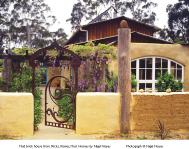 Photograph: Sticks, Stones, Mud Homes Nigel Noyes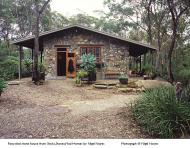 Photograph: Sticks, Stones, Mud Homes Nigel Noyes
Barbara Tremain-Howard explores the approach that "good design in house-building leads naturally to positive ecological principles."
THIS INSPIRING AND practical book is full of useful facts, wonderful photographs and detailed ecologically sound construction techniques, featuring some of the most beautiful buildings to be found made of sticks, stones and mud. The text introduces us to the designers, builders and dwellers responsible for these beautiful creations, yet sadly, we never actually meet them 'face to face' - in a photograph - and although a small point, this seems like a personal omission.
That said, there is enough information in this book for total beginners in the world of eco-building to start a practical project of their own, or indeed, for seasoned sustainability experts to appreciate Nigel Noyes' knowledge and perhaps gain some new design and style ideas for themselves.
Building and art meet in this book: the sensitivity of design, lightness of resource use and respect for the environment presented convey the book's deepest message, 'Tread lightly upon the Earth.' The topics and chapters are clearly laid out, creating a book that is easily absorbed by the mind as well as the eye.
Each section of the book describes a particular building material such as mud brick, straw bale, stone or wood, and details how to best use it. Other, more contemporary materials include bamboo, bottles, cardboard, bundled reeds, hemp, car parts and other 'salvaged' items. These are combined with conventional building products that are low in embodied energy (the energy needed to produce them), to create "wonderfully individual spaces". Noyes describes the architecture, aesthetics and use of the materials that he has discovered as the "Gateway to a New Vernacular". This phrase applied to contemporary eco-housing could become the topic of much healthy debate.
The materials that are used are labour-intensive in their production and use but this links home-builders to more traditional, co-operative ways of working. Noyes' modern interpretation of this ensures that building is fun and community-orientated: an antidote to the current model of building practice, which is usually undertaken by large building firms or even larger multinational corporations.
The quality of the buildings that are produced with such love and attention creates a tangible aura of beauty. The standard of the structural work, combined with highly creative design factors, leads to buildings that we know intuitively are healthy for both people and planet.
This book conveys these principles and is obviously a work of love, as Noyes has a genuine passion for the subject matter. There is a pervasive sense of him being inspired by these natural materials, and he seeks to inspire others equally. He effectively delivers a work that extends much further than a technical instruction manual.
A journey is undertaken in the unfolding of this book, both personal and geographical. Noyes travels to parts of the world where sustainable techniques are being widely practised as a modern way of living, the pioneers of which are heralding a forward movement for those who may be influenced by and further this building revolution. His skill is that he knows how to look deeply, how to interpret what he is looking at, and how to then apply it in his own work.
It should be noted that most of the houses featured in the book are in Australia and America and they convey an enviable utopian lifestyle of detached eco-luxury in acres of space, a privilege available only to the fortunate. Furthermore, the climate in those places is more conducive to the outdoor element of living on which the book focuses. Sunnier, drier climes require different considerations in the initial design, architecture and energy-use calculations than would apply in the UK, for example. But the basic principles of the book could be adapted anywhere.
In Britain, we generally have to live modestly and jostle along with our neighbours. We also have to deal with awkward planning restrictions when trying to build something innovative or unusual, but Noyes encourages us on this small and overcrowded island to pursue our dreams, and he shows us practical and individual ways to make those dreams a reality.
Special offer to Resurgence readers: this book is available for £19.95 including p&p (UK only). Contact + 44 (0)1273 704962 and state "Resurgence offer".