Rainforest Progress
Donate Now
Issue 251

Nov/Dec 2008
Feasting & Fasting: Connecting the Plate and the Planet
Frontline
Rainforest Progress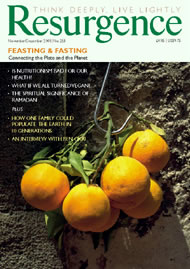 Cover: Oranges, Seville, Spain Photograph: Chris Caldicott/Axiom
Legal agreements that give hope for the future of the Amazon forests.
SAVING THE AMAZON – the world's largest rainforest – from destruction is a crucial challenge for humanity. It is a challenge that so far we have not risen to; an area the size of Belgium is still disappearing every year, as farmers, ranchers and loggers push ever further into what was once virgin forest.
So two recent pieces of good news from the forest should be celebrated as, in both cases, those responsible for the forest's destruction have agreed to suspend their activities. Firstly, an ongoing moratorium on the purchase of soybeans from rainforest lands deforested after 2006 has been so successful that it has been extended until 2009. Soya farming is a growing cause of Amazon deforestation, and the moratorium, agreed to by the Brazilian Vegetable Oils Industry Association (which accounts for 94% of Brazil's soya production), has been successful in preventing more rainforest land from falling to soya farmers.
At the same time another agreement with industry – this time with the loggers – looks set to help the forest too. The Amazon State of Pará, which is the source of 45% of Brazilian Amazon's sawed timber and is notorious for high rates of illegal logging, has agreed with Brazil's environment ministry and representatives of the logging industry to ban trade in illegal timber and timber from deforestation. Greenpeace Brazil says the new pact "will benefit local communities and promote legal and sustainable logging activities". If both agreements work, there may yet be hope for the future of the Brazilian Amazon. PK