Feasting & Fasting: Connecting the Plate and the Planet
Issue
251

• November/December 2008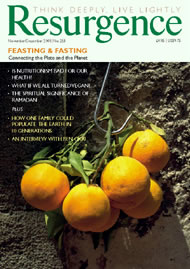 Buy a copy of this issue
Become a member and receive 6 issues a year
Contents
Key
Free for all to view
Free for members to view
Not available
Welcome
Food is a microcosm of the macrocosm.
Frontline
The birth of the world's first 'Fair Trade Nation'.
The art of communication through touch.
Re-evaluating business practice.
Legal agreements that give hope for the future of the Amazon forests.
Keynotes
Where science meets spirituality.
Why do environmentalists choose to ignore the problem of over-population?
Feasting & Fasting
Food has a profound capacity for meaning and conviviality.
A poem from Miriam Darlington' s book Windfall.
The kitchen is the place in the home where the juices flow.
The cultural and spiritual significance of Ramadan.
Baking home-made bread for the first Resurgence Slow Sunday.
The joys of a traditional North Devon Christmas Festival.
The bad science behind nutritionism?
Discover the raw and vegan delights of living foods.
Modern bread is on the road to nutritional nowhere.
The wondrous variety of the common spud.
Make an informed decision about what's on your plate.
Eat locally and seasonally.
Regulars
Poems from Ronald Duncan's Collected Poems.
For us, you were a living link to another kind of place.
Joyous feasts of the winter solstice.
Bringing nature writing alive with words, wit and wisdom.
Changing the US economy to one that respects the limits of natural systems.
The mystery and wonder of watching migrating birds.
Let's Feast for Resurgence Slow Sunday.
The Arts
Beauty lies in the places where there is seemingly nothing.
An engaging interview with Ben Okri.
Reviews
Review of Hungry City: How Food Shapes Our Lives.
Review of Sea Change: Britain's Coastal Catastrophe.
Review of Plan B 3.0: Mobilizing to Save Civilization.
Review of The Bill McKibben Reader: Pieces from an Active Life.
Review of Do Good Lives Have to Cost the Earth?
Review of The Power of Unreasonable People.
Web Exclusives
Dried fruit and good tidings, all wrapped up in a mince pie.
Artisan flour-milling is playing an essential role in producing specialist flours.
The quality and quantity of food we produce should be in harmony.
Hunger created by human greed is an expression of a violent and unjust world.
Review of The art of knowing where and who you are.