A Progression of Thoughts
Donate Now
Issue 251

Nov/Dec 2008
Feasting & Fasting: Connecting the Plate and the Planet
Reviews
A Progression of Thoughts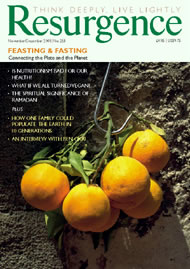 Cover: Oranges, Seville, Spain Photograph: Chris Caldicott/Axiom
The Bill McKibben Reader: Pieces from an Active Life Bill McKibben Holt, Rinehart and Winston, 2008, ISBN 9780805076271
IN 1990, WHEN Bill McKibben's first book The End of Nature was published, I was finishing my doctorate degree in geology. I read the book with huge interest, as it was one of the earliest popular books on carbon dioxide and global warming. Since then, both this issue and McKibben's environmental writing have grown: The Bill McKibben Reader is a testimony to this. The book consists of forty-four short and long essays that he has published in various magazines over the past two decades.
There is more than one way of reading an anthology of essays. One way is to follow the sequence that the author has chosen. This book then consists of seven categories: At Home in Nature; The Changing Planet; Consumed; Communities; Heroes; The Turn to Activism; and Time, Moving and Meaning. These topics show the expanse of McKibben's writing interests. But I tried a different way. I began with the essays with which McKibben himself began his career – the six essays on global warming (in Part Two). A 1989 essay summarises McKibben's first book. Another essay suggests that perhaps we need a scarier title, 'Hell on Earth', for global warming to draw real attention from the public. A 1998 essay is a flashback on the not-so-successful story of the Kyoto Protocol on global warming. And a 2006 essay uses Katrina to showcase how global warming can enhance hurricanes and create millions of environmental refugees in the near future.
What is the author's solution to reducing global warming? Reduce the emission of atmospheric carbon dioxide by not burning fossil fuels. Recently McKibben has started a movement, www.350.org, suggesting that humanity should lower the atmospheric CO2 level to 350 parts per million (ppm) to avoid the disruptive effects of global warming. (The CO2 concentration is currently 388 ppm by volume; in the mid-19th century it was only 280 ppm.)
McKibben's essays on consumption and communities hint at topics which he has detailed in his 2007 best-seller Deep Economy: The Wealth of Communities and the Durable Future. Of particular interest to me in these essays was the Good News – that some evangelical Christians in the US have started caring about environmental issues out of their notion of humans' stewardship of this fragile planet. We need more of this trend.
Every writer has his or her own heroes and heroines. McKibben is kind enough to share stories of many leading figures in the arenas of environmental writing or social activism, including Martin Luther King, Jr., the 'Desert Anarchist' Edward Abbey, the poet and Kentucky farmer Wendell Berry, the climate scientist Jim Hanson, the 'Earth First!' fighter Dave Foreman and the 'Muslim Gandhi' Abdul Ghaffar Khan. And now the publication of The Bill McKibben Reader indicates that its author has also joined the hall of fame and remains one of the eminent environmental writers of our time.
Time flies and life passes, but good books remain and portray our problems, struggles and hopes to inspire ourselves and the future generations. "And being human", writes McKibben at the conclusion of the book, "has always meant being, in some irreducible way, yourself. Not a genetically programmed machine designed for maximum performance, not an interface with silicon or with nanomachines giving you more power by orders of magnitude. That basic identification – I am me – is the reason that, in the end, activities like sports have real meaning." The same can be said of literature, and there are many good essays in this volume, for that matter.