Way-Finding
Donate Now
Issue 252

Jan/Feb 2009
Nature Crunch: Redesign, Rethink, Reimagine
Reviews
Way-Finding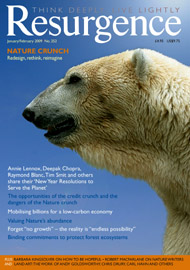 Cover: Polar Bear Photograph: Juniors Bildarchiv
Robert Macfarlane Granta, 2008, ISBN 9781862079410
TIME AND AGAIN, wildness has been declared dead in Britain and Ireland, but Robert Macfarlane did not believe these "obituaries for the wild" and set out on a journey to unearth the wild places of these islands. As part of his exploration, he also wanted to create a new map of Britain – nothing like the maps we use these days that only show the mesh of roads and motorways, railway lines and urban sprawl, but a "prose map" that marks the intricacies of fells and tors, the tracks and lanes through woods and moors, remarkable trees and interesting rocks, bird sightings and good views. This book is that map.
Macfarlane sets off north and west to the extremities of the country seeking the wild in those places furthest from humanity, "in the diminishing proportion of terrain that is now more than five miles from a motorable surface". In his search for wild land or, as he explains etymologically, "self-willed" land, he visits the Welsh island of Ynys Enlli, and the valley of Coruisk on the Atlantic coast of the Isle of Skye. He traverses the Buachaille Etive Mor at the eastern gateway of Glen Coe, and the labyrinthine Black Wood of Rannoch Moor. He finds himself awed by the "antique sea" of The Burren in Ireland, "aware of yourself as constituted of nothing more than endlessly convertible matter".
Perhaps only certain people are wild enough to experience the wild. I felt Macfarlane was somewhat reckless to bed down for the night in his bivouac bag on a frozen tarn (lake) during a blizzard in the Lake District. When he arose in the morning, there was a shallow indent in the ice shaped like a sarcophagus where he had been lying! Maybe it is only the intrepid who are destined to see such glories as the effect of snow and moonlight on a winter's night, which allows the eye to see up to a distance of thirty miles in the dark.
At this stage of his mapping, Macfarlane acknowledges that maybe John Fowles had been right in suggesting that if the wild were to come close to extinction, its final fastnesses would be the mountain-tops and the valleys they protected. These were the places, Macfarlane felt, that "still kept their own patterns and rhythms, made their own weathers and their own light". But this certainty began to ebb as he journeyed further and explored other landscapes with fellow naturalists and mentors.
The more Macfarlane immersed himself in the landscape, the more he realised that his own vision of wildness, so rooted in the remote and extreme, was itself still shaped in some way by humanity. "Every islet and mountain-top, every secret valley or woodland, has been visited, dwelled-in, worked or marked at some point in the past five millennia. The human and the wild cannot be partitioned." And it seemed to me this was a moment of epiphany for Macfarlane as he began, not to seek out the wild places, but to see them everywhere, in every place. He began to adhere more to Samuel Taylor Coleridge's account of wildness as "an energy which blows through one's being, causing the self to shift into new patterns, opening up alternative perceptions to life".
This book was written in memory of Roger Deakin, who was a friend, naturalist and mentor. Deakin delighted in Macfarlane's rambles and ruminations and joined him on many a trip to haunts near and far that beheld the wild. Deakin had the gift of seeing the wild in the mundane and shared this insight, amongst many others, most generously with Macfarlane. To Deakin, "the present-day and the close at hand were as astonishing as the long-gone and the far-afield."
I sensed a sadness in Macfarlane's writing which I attributed to the loss of the wild in this country, but perhaps what I was perceiving was the intense grief that he experienced on the death of his dear friend. Indeed, on the news of Deakin's death, I recall feeling bereft that one so enmeshed in Nature, so knowledgeable and erudite had parted from us, and how much we had lost in his passing.
So it was with mounting relief that I realised that Macfarlane has taken on the mantle. His skill as a writer, his depth of knowledge and his innate love of the wild have imbued him with all the tools necessary to continue Deakin's life's work. How do I know this? Macfarlane was explaining how climbing a tree is a way to get perspective in his life – it gives him "the relief of relief" – a deft turn of phrase that so puts me in mind of Deakin's own word-smithery.
This book is many things: it is a prose map; it is a personal journey; it is a delight; it is a homage, an epitaph and a tribute to Deakin – and it is a great relief to those of us who felt we had lost Deakin forever.