Nature Crunch: Redesign, Rethink, Reimagine
Issue 252 • January/February 2009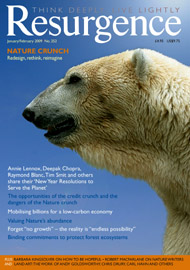 Buy a copy of this issue
Become a member and receive 6 issues a year
Contents
Key
Free for all to view
Free for members to view
Not available
Welcome
The credit crunch is an opportunity to redesign our money system.
Frontline
Rainforest Nations Lead the Way • Lorna Howarth
New commitments to stop rainforest loss and protect endangered species.
Using appropriate technology to restore damaged reefs.
The Grandmothers Speak • Sophia Style
Reviving the traditions, rituals and medicines that can help heal the world.
Working with communities for positive change.
Keynotes
The 'holy life' is necessary grounding for us all.
Forget "no growth" - the reality is "endless possibility".
Mobilising billions for a low-carbon economy.
Transforming Darwinian evolution into a liberating vision for 21st century.
Some sound advice for us all.
Quotes
Lord, the air smells good.
You Have Two Cows • Anon
Political perspectives on having two cows.
Biocultural Diversity
Valuing Nature's abundance.
The Arts
Can art help raise awareness of what we are doing to the Earth?
The award-winning architecture of Tadao Ando.
Regulars
Poetry

- In the Service of Beauty • Rose Flint

The power of metaphoric language to integrate our lives and give soul to the world.

Inspirational writers who change the way we see the world.
A Sense of Place

- Flight Paths on Skomer • Jane MacNamee

Skomer island is a haven to thousands of breeding seabirds.

A glimpse of the journey from Austria to New Zealand.

There is rhythm in the tide of growth.

Embarking on a journey to live more respectfully with Gaia.
The Occasional Didymus

- Killing Time • John Moat

Time doesn't actually need saving.

No other star is as quick to tell me where to go.
The Big Picture

- Icons of England • Lorna Howarth

Campaign to protect rural England.
Letters to the Editors

- Eyes Wide Open

Commit to one action to serve the planet in 2009.

New Year Resolutions to serve the planet.
Reviews
Review of The shift to a low-carbon future.
Review of A World Without Poverty.
Review of The Necessary Revolution.
Review of The Selfish Capitalist: Origins of Affluenza.
Review of The Secret History of the War on Cancer.
Review of The Gods That Failed: How Blind Faith in Markets Has Cost Us Our Future
Review of The Transition Handbook: From Oil Dependency to Local Resilience.
Review of Body Eloquence: The Power of Myth and Story to Awaken the Body's Energies.
Review of Transcendence: Seekers and Seers in the Age of Thoreau.
Review of The Wild Places.
Review of Hell and High Water: Climate Change, Hope and the Human Condition.
Review of Understanding Gregory Bateson.
Review of Batu-Angas: Envisioning Nature with Alfred Russel Wallace.
Web Exclusives
A teenager's invention to help save the planet.
Regenerating landscapes, rediscovering abundance.
Julie Brown has created a local food project as vibrant and diverse as the community in which she lives.
The art of Pip Benveniste is an expression of her love for the land and the vast connectedness of all life.
The paintings of David Tress are alive, fluid and belong to an Earth marked by ancient human presence.
Review of The art of knowing where and who you are.