Nature's Signature
Donate Now
Issue 252

Jan/Feb 2009
Nature Crunch: Redesign, Rethink, Reimagine
Web Exclusives
Article
Nature's Signature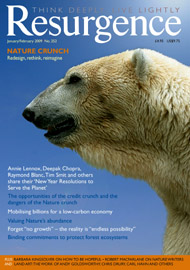 Cover: Polar Bear Photograph: Juniors Bildarchiv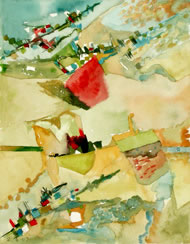 Painting by Pip Benveniste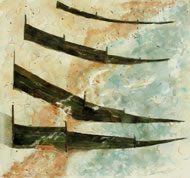 Painting by Pip Benveniste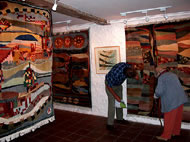 Painting by Pip Benveniste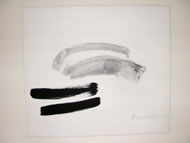 Painting by Pip Benveniste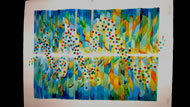 Painting by Pip Benveniste
PIP BENVENISTE is an unusual artist who has sought all her life to discover that anonymous but expressive 'signature' of cycles. The natural world has been her constant companion and a source of inspiration for a wide-ranging creative output in oil, acrylic, watercolour, etching, black and white photography, 16mm film, and rug design, with watercolour on handmade paper as her principal medium in later years.
As a child in the 1920s, this elder daughter of bohemian parents was allowed to roam freely across the Cornish landscape, intuitively and innocently laying down a matrix of deeply interconnecting themes that would later return again and again to influence her eye as an artist. She was entranced by both the surrounding environment of granite rock formations, craggy coast, fields and their boundaries, and, of course, the mysterious Cornish light.
Her mother, Kay Earle, was a painter out of the Newlyn School, and her father, Alec Walker, son of a Yorkshire mill owner, became a painter after they married and settled in the fishing village of Newlyn. Together, they established Cryséde, a successful and innovative company producing high-quality, wood-block, hand-printed designs on silk for fine clothing.
Benveniste was brought up among artists, writers, actors, designers, pacifists and conscientious objectors, and had very little formal education, yet her early journals reveal a clarity and insight into the basic principles of Nature, including symbiosis: natural organisms co-existing for their mutual advantage.
Benveniste left the family home at the age of eighteen to join a pacifist community in the West Country, which was grounded in organic agriculture and whose members struggled with the possibilities of a new world order. After the Second World War she travelled to France and Morocco, studying colour and painting landscapes which grew progressively expressionistic.
She experimented with abstract painting while living in New York. Although she felt a strong need for her paintings to be more abstract, it was not an easy transition for her to make. Her paintings at that time were best described as 'abstract organic', with some reviewers making connections between her work and that of Paul Klee and Wassily Kandinsky; but it seemed to Benveniste that no-one really knew how to read her paintings in the 1960s, since so much of the current abstraction then was very hard-edged and often based on mathematical formulae or geometrical shapes.
She worked with oils – her medium for over twenty-five years – but changed to acrylics during the 'black and white period' when her paintings became more calligraphic and gestural. For these she made her own brushes by smashing bamboo or other fibrous sticks to a fringe and tying them to the handle of a broom to get the length she needed to paint in her Camden Town studio.
At the end of the 1960s Benveniste switched her working apparatus to make 16mm films, producing ground-breaking results which were quite avant-garde at the time. In 2004 her forty-year-old film Eventual was honoured in Tate Britain's exhibition Art and the 60s: This was Tomorrow.
In 1973 she moved to Norfolk, where she concentrated on black and white still photography while also working on very small canvases. This was a time of returning to the land to allow her spirit to revive. The tightly knit circles and minimal brush strokes with which she was now working and which created the impression of an undulating mesh floating "out of" and "returning to" the dark background, were the result of a relentless paring-down of marks made during the best part of a decade of gestural painting. They became the unconscious birthplace of the 'grid', which she still used in her work well into her later years.
When Benveniste moved back to London in 1978 she felt invigorated by a powerful, new energy regarding her work. Some of the earliest watercolours were motivated directly from the 'five stages of life' as found in the I Ching. Other paintings at this time were about isolated moments of meditation: staring at reflections on a canal, a change of season, the wind in Yorkshire, or the power of a storm.
BENVENISTE SEES EACH painting as an experiment, minor or major, but necessary, sometimes seeing which colours "float" convincingly, or which "move and breathe". A number of paintings have at different times created a feeling of distance in time and space, as well as looking more locally through different aspects of Nature: trees, fields, and so on; hence an entrancing series titled 'Near and Far', in which the viewer might not know if he or she is looking through a copse or around it into the valley beyond.
Benveniste moved to her current home and studio in West Dorset in 1996 and began to design rugs. These are made on traditional handlooms in Agra, India. Work in this medium has been very much an extension of her painting, exploring details of the natural world; she could not resist calling this new venture 'Land Rugs'.
Having worked for many years with her own version of abstraction, Benveniste returned to a more figurative way of painting landscape and the coast, always appreciative, as she says, of that "powerful, holding line" where the sea meets the land. "It is the creative energy of the doing that has the value; the finished object is the manifestation of this energy and that is how it acquires a value."
BENVENISTE HAS BEEN through eight decades of investigation, artistic process and creative output. In the summer of 2008 she published the first volume of her memoirs from early beginnings, 1921 to 1950. The Pink House is a fascinating, detailed narrative that takes the reader back to the innocence of a flourishing artistic and bohemian community in the 1920s, in what was also a lively fishing centre. Her earliest memories were "isolated moments, disconnected like photographs hanging in a dark passage". The Pink House takes us through the 1939–45 war and ends, tantalisingly, in 1950 with Benveniste heading with her partner and sons for one of London's key artistic and bohemian centres – Hampstead – and a large house on the edge of the Heath. •
The Pink House: An Autobiography by Pip Benveniste (Avant Garde Editions, Tunisia, ISBN 9789973004048) is available from ECC, 29 Ravenswood Road, Redland, Bristol BS6 6BW, UK at £11.50 including p. & p.