Wood Matters
Donate Now
Issue 253

Mar/Apr 2009
Economics of Place
Reviews
Wood Matters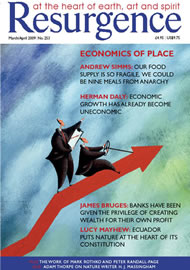 Cover: Illustration: Corbis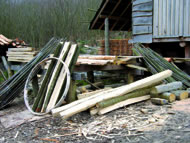 Steam bent yurt hoop and other woodland produce at Prickly Nut Wood. Photograph: courtesy Ben Law
I FIRST MET Ben Law in Prickly Nut Wood almost fifteen years ago. He'd been living there, in a bender and teepee, for a couple of years, I think. I was making my first television programme, A Cook on the Wild Side, and I dropped in for a few tips on living off the land. I learned how to make birch sap wine, helped Ben burn a batch of charcoal, and watched him work his wooden pole lathe. We ended up drinking an assortment of his hedgerow brews around the fire. Let's be honest: we ended up drunk.
It was all good fun, and made a charming five-minute segment for the show. But I took something away from that day with Ben that was hard to express in the programme (though I tried). I went away with a new-found conviction that has never left me: wood matters. In fact, in terms of how it nurtures us, it's right up there with food and water. And, as with those two elemental forces for survival, the way we deal with wood is part of what defines us, both as individuals, and, ultimately, as a species.
Every child knows that there's no better toy than a stick. And every adult who forgets the immediate, dependable companionship, both practical and spiritual, of a piece of wood, either in its raw state, or formed for function, will lose something precious. The man or woman who never stops to admire the shape of a tree, or the grain of a tabletop, is too busy to be truly alive. We can't all know and love wood with the deep passion and profound understanding that Ben has. But we all can, and indeed must, let it into our lives, as a force for good.
If you think that sounds far-fetched or pompous – or you just don't get it – then read this book and I'm sure you will. Because one of Ben's remarkable gifts, besides being arguably Britain's greatest living woodsman, is a knack for inspiring others, both as a writer, and by example.
The Woodland Year is a month-by-month journey through Ben's woodland in the Sussex Weald, and a celebration of every aspect of sustainable woodland management. The cycles of Nature, the seasonal tasks, wild food gathering, hedgerow wine making (I can vouch for the quality and strength), genuinely useful and tempting recipes, coppice crafts, timber frame eco-building, Nature conservation, species diversity... It's all here. But it's never over-detailed, exclusive or patronising – it's always clear, fresh and empowering.
But The Woodland Year offers more than this. As an intimate account of Ben's yearly cycle of work, his naturally tuned lifestyle and deep immersion in the very fabric of the nature of his woods, it's beguiling and somehow irresistible. Ben generously invites all his readers to partake of his discoveries. In words that are often lyrical but always ungilded, he describes a way of life that is both economically and ecologically viable. As such, it holds some of the fundamental keys to how we can achieve a more sustainable, lower-carbon society.
In the end it is Ben's absolute passion for woodlands, as well as wood, which is the mark of the man. His deep understanding of them is now opening up many regenerative possibilities for the British landscape and would-be woodlanders alike. By training others in woodland skills, by using his woods and house to educate many, by writing books such as this, by putting himself in the media spotlight – a place that by his humble nature isn't the most comfortable place for him to be – Ben has dedicated his life to showing that looking after our woodlands is essential for our future wellbeing.
Ben is a true pioneer and is, by example, quite simply creating a woodland renaissance in Britain. Read this, and you will surely want to be part of it. •
Order a copy of Ben Law's The Woodland Year before 31st March 2009 via 01730 823 311, quoting 'Resurgence Readers' Offer', for just £18.95 + £3.95 UK p&p (RRP £19.95), and receive a FREE issue of Permaculture Magazine: Solutions for Sustainable Living, the magazine Ben writes for regularly.