Rocky Mountain Music
Donate Now
Issue 253

Mar/Apr 2009
Economics of Place
Web Exclusives
Article
Rocky Mountain Music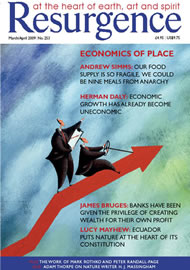 Cover: Illustration: Corbis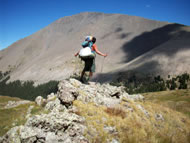 Jeff staring at San Luis Peak. Photograph: courtesy Jeff Kagan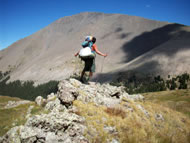 A young hedgehog. Photograph: Graham Yuile/istockphoto.com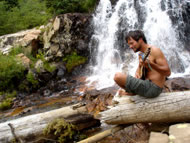 Jeff Strumming by the waterfall. Photograph: courtesy Jeff Kagan
I'LL BET I'M the only person to hike the Colorado Trail with a curly wig, a sailor's hat and a bag of animal stickers! On July 23rd, 2008 I leave Denver, Colorado on a fifty-three day journey through the heart of the Rocky Mountains. Of course I have my basic camping essentials including a ceramic water filter, a down sleeping bag and three-season tent. But in addition I pack my teaching essentials: 'Love Vision' goggles, a fuzzy Bobcat hat, sixty Colorado animal necklaces and, most importantly, my backpacker's guitar. This kit weighs nearly seven pounds, but is as indispensable to this particular backcountry trek as a headlamp or raincoat, because this journey is a 'Children's Music Walking Tour', a ten-show excursion on foot through the high alpine passes of the mountains.
My love of the Rockies has guided the last decade of my life. It has fuelled my teaching, my hobbies, and my lyrics. It is my secret dream to make a life out of sharing my Rocky Mountain Music with kids and now, I am combining my two greatest joys: hiking and making music with children. My goal is to use music to teach love and appreciation for these mountains. But like so many times in my teaching career, I am the one who receives the lessons.
There's something different about the kids in Silverton, Colorado. My audience is normally a bit shy at the beginning of a show. We usually share a song, some interactive hand motions, and some animal noises and gradually the modesty disappears. There is no such modesty in attendance among the kids of this mountain town of 500 people, founded with a pickaxe, sustained by tourism.
I start the concert with 'The Bobcat Walk', a tune about the stealthy behaviour of the most numerous wildcat in Colorado. Before the song begins I teach the Bobcat Dance, a few simple motions to match the chorus. I didn't factor in, however, the extreme imagination of Silverton kids. Instead of the reserved arm bobbing I am used to, a pile of bobcats forms before my eyes. Make-believe claws lash through a mêlée of three to five year olds whose eyes tell me that for three minutes and thirty-four seconds they truly believe they are stalking Cottontails through the foothills! After the show the kids practice water filtration and affix hummingbird stickers to my travelling banner. I am packing my props, relieved to have survived a potential mauling.
"The kids here are different," laughs Karen, mother of two. "Silverton children are curious, imaginative and adventurous. They spend their days exploring these mountains and I think there's a certain confidence that comes with their explorations. And they certainly aren't shy," she adds with a smile.
This is why I am on this journey: to bring to life the natural world through imagination and music. The kids from Silverton just needed a little less encouragement than I am used to. It is precisely the regional differences between the mountain towns that make every concert new, exciting and at times, a challenge. My journey takes me through nine towns across 483 miles and a faint reflection of each community reveals itself through each fifty-minute concert. At 10,430 feet Leadville, Colorado is the highest city in the United States. Here, I learn that town events are announced with the ringing of a church bell. I pull the old fraying rope. Every dog in town begins to bark and soon after, families arrive for the show. The next day as I resupply provisions at the Country Store my cashier is an eight-year girl who last night wrapped her arms around an imaginary Earth during the chorus of 'Squeeze'. Now she is counting out my change.
THE JOY OF making music with kids blends with the joy of making music alone. One day I arrive at a glistening alpine lake and after dinner I build a fire and slowly remove my guitar from its waterproof bag. Embers rise into the sky. My voice follows. Practicing my music alone makes me happy. This is my joy. When I finally head to the tent I resist sleep, reluctant to postpone the happiness of this life with slumber.
Every week I repeat the process of finding my way from complete wilderness solitude into small mountain communities. My bug spray has been leaking and my pack smells of eucalyptus oil. I am unshaven and sweaty. On previous hiking trips I have relished wild solitude but now, in the heart of the Rockies, I acknowledge a new lesson. While elated to be alone, I welcome a surprising craving for human interaction. I begin to enter these towns as starved for people as I am for pizza. Children's music is the way I connect. Sharing my songs ties me to towns by my guitar strings. The human contact I miss on the trail comes quickly and in short musical bursts like the afternoon thunderstorms of the mountains.
"We are a musical species. Music is irresistible, haunting and unforgettable," writes Oliver Sacks in his book Musicophilia. I feel this in my whole being over the course of my journey. Kids are a musician's most honest audience. They will not be polite if I'm having an off day. They will not pretend to enjoy something that doesn't "do it" for them. They will not hold back from dancing because of social inhibitions. If the music is good they move. If the song doesn't work they throw grass at my toes and steal my props. When I strike the opening chord of the first song, I can literally see the music enter into a crowd of young faces. Eyes brighten, limbs twitch. Little hearts begin to dance.
Their happiness fuels my own. For an instant I am no longer the man who has been alone in these mountains, strumming to lakes and streams, stars and spruces. For a brief time I am part of the community sharing a musical moment. We are instant friends and for a few moments I don't want to leave. Children's music has moored me to my hometown at the foot of the Rockies. Now it is tying me to the heart of this range. This is the best journey of my life.
IT'S TIME TO leave Silverton. There's one last stretch of trail before the final concert in Durango. I linger, strolling through the center of town. My clothes are clean but my pack, heavy with seven days of food, still smells of eucalyptus. The batteries in my headlamp are recharged, my face is freshly shaven, and the neck of my guitar juts up through the top of my pack. I am searching for one last goodbye, one final acknowledgment that for a short time I am not just a mountain drifter but an honorary member of this community. I see no one. A storm is moving in on cue. I cinch my waist belt and head to the outskirts of town, back towards the trail that has given so much, two hundred thousand solitary steps between me and the final crowd of little wild hearts.