The Willow River
Donate Now
Issue 254

May/Jun 2009
Elegant Simplicity
The Arts
The Willow River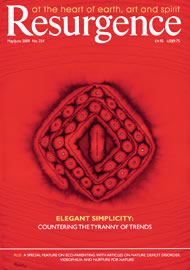 Cover: Painting by Sohan Qadri
Issue availability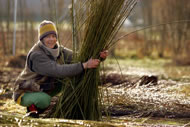 The artist gathering her materials. Photograph: courtesy Sarah Pank
THE CRAFTS STUDY Centre, The Devon Guild of Craftsmen and Contemporary Applied Arts joined forces in 2007 to create an exhibition, a book of essays, a symposium, a website and a DVD, as well as draw in some thirty craft practitioners in an ad hoc collective. The outcome, still alive and under active discussion, was Urban Field.
Urban Field proposed a new reflection on craft practice located in the rural outpost, the city or at the edge of town and countryside. Sarah Pank, living at the far end of an impossibly high-banked Devon lane set some miles out of Buckfastleigh, made an especially notable collection of functional and artistic pieces in willow and other hedgerow materials for the groundbreaking exhibition at Contemporary Applied Arts in London.
Her work, alongside that of other innovative willow artists such as Lizzie Farey (who first inspired her to take up basketmaking in Galloway), Jenny Crisp, Caroline Sharp and Susie Thomson, demonstrated the vitality of this ancient craft, reconfigured for contemporary use and aesthetics.
The Urban Field show at Contemporary Applied Arts had a UK perspective. The fine exhibition
European Baskets for the Crafts Council of Ireland in 2008 took a broader sweep. Both exhibitions – part elegy for the passing of the traditional basket and part chorale for the sustaining of new craft forms and uses, symbolic and meditative – emphasised the connectivity of the finished work to the land and river, to specific place, and to the litany of the seasons.
These environmental values are deeply sourced in willow artists and basketmakers, and Pank is a redoubtable proponent of them. Her sense of place is profound, lyrical and contemplative. She seeks to imbue her work with these values, and her output as well as her chosen lifestyle expresses her need "to live lightly on this Earth". This way of life and craft is also inherent in her Dartmoor garden. It is unkempt, loved and almost ungardened. Native plants, ferns and grasses are all nurtured, but so are placed arrangements of bunches of tied twigs and carefully arranged mounds of terracotta shards and stones, with the river Mardle coursing by. These are symbolic placements of ordinary things, considered but not casual.
Pank's work sits, then, within wider concerns: for precious ecology, for deep personal introspections, for the tension of the individual pathway and its fragile connections to social engagements. She is, one might say, both withdrawn and highly energised by conversation and ideas. Her basketmaking is therefore richly humanistic. Functional pieces such as vessels and baskets are rhythmically composed, ordered and strong. They are, simply, fit for purpose. Their artistic appeal is dependent on the subtle shifts of colour in the willow and the interlocking of repeat patterns in the wale weaving and randing of the material. Pank has nurtured this material: grown, gathered and prepared the willow herself. These functional baskets are robust, certain and honest.
Pank has also developed a more conceptual approach to her craft. For the fiftieth anniversary of The Devon Guild of Craftsmen in 2005, she made a signature work that brought together the functional and symbolic elements of her craft. The piece was a vast dogwood and willow vessel with an explosive and dynamic outer surface of hedgerow twigs and branches of blackthorn, creating an energetic force field of natural energy around the woven core. The piece demonstrated powerfully how Pank's work as a basketmaker on Dartmoor is intertwined with "my deep love of Nature and the wild, and my feeling for the irresistible rhythmic weaving of plant materials".
The self-contained interest in 'wildness' led Pank to explore the abstract and sculptural possibilities of willow and branch forms, made for the purpose of installation and art rather than use. A remarkable sequence of wall-hung pieces for the Urban Field exhibition followed. These were meditations on Nature, seasonality and the life-long patterns of sap and water flow. The course of the Mardle as it runs past Pank's Dartmoor garden seems to me to flow symbolically through her work, too: catching its eddies and stillness, its sound and silences.
PANK IS A craft artist who attends carefully and respectfully to the needs and innovations presented by her raw and natural materials. She will also take time out from the demands of making work to respect her own meditative needs. A long period of reflection and silence has now passed, and she is making baskets again, in even closer harmony with her principles, and still at the vanguard of this deeply symbolic and ecologically sustainable craft form. She shares the view of the eminent Irish basketmaker Joe Hogan, who has commented on the connection of the craft to the lifestyle as "a deeply satisfying involvement from growing through to making".
A conversation with Pank is like a dance with time: she will pursue an idea in the round and, while speaking, will follow its course in both word and movement. She is spellbound in the moment. In the development of the formal grace of her willow baskets and the free lyricism of her wall pieces, she demonstrates her individual contribution to the vital abstract flow and latent energy of the best of British and European willow artists.
Her work is a search for order and poetry, and in both she finds a clarity of purpose and clarity of image. This work is deeply introspective and intrinsically connected to the Earth. Through 'inner-ness' she finds the means both to express order and to capture the way that a Devon breeze might ruffle a hedgerow; to capture the fluid movement of Nature. Her work, in fact, has first been woven by the river and the air.
Professor Simon Olding is Director of the Crafts Study Centre, University for the Creative Arts.