Elegant Simplicity
Issue
254

• May/June 2009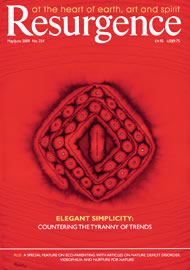 Buy a copy of this issue
Become a member and receive 6 issues a year
Contents
Key
Free for all to view
Free for members to view
Not available
Welcome
Our fixation with fashion is a key cause of current world crises.
Frontline
Celebrating the transformation of 'school food culture'.
Creating healthy relationships and lifestyles.
Ground-breaking gardening initiatives.
Preserving the livelihood and environment of the Vezo people of Madagascar.
An innovative theatre company helping to create awareness of ecological wellbeing.
Eco-parenting
Taking a closer look at parenting issues.
We must prevent the extinction of Nature in our children's hearts.
Televisions and computers have hijacked childhood.
Keynotes
What is the true cost of our love of designer labels?
Defra launches a Sustainable Clothing Action Plan.
Biocultural Diversity
Why does the Indian government continue to turn a blind eye towards farmers' suicides?
Learning from the wisdom of Mother Africa.
Saluting the small farmers who refuse to co-operate with the agribusiness paradigm.
Undercurrents
Questioning the supremacy of the mathematics of the European tribe.
A tribute to Arne Naess.
A ripost of the false promise of "total economies".
The Kashmir Valley now faces a threat even greater than human conflict.
Quotes
We are not outside the rest of nature.
The Arts
The unusual braiding of art, craft and accident in the work of Francis Wishart.
Experiences from a cross-cultural exchange.
The introspective work of 'craft artist' Sarah Pank.
Artistic collaborations of extraordinary spiritual resonance.
Regulars
The sublime writing of J. A. Baker and Aldo Leopold.
A collaboration of poetry and photography.
Gathering armfuls of delicate elderflowers is one of the delights of early summer.
The impact of living without oil and what the future holds.
In Memory of John Fairfax, former Poetry Editor of Resurgence.
A day without fossil fuels.
Reviews
Review of The Golden Boat: Selected Poems of Rabindranath Tagore.
Review of Lighting a Candle: Kathleen Raine and Temenos - Reflections, Memories, Tributes.
Review of Gardening at the Dragon's Gate: At Work in the Wild and Cultivated World.
Review of Riverford Farm Cook Book: Tales from the Fields, Recipes from the Kitchen.
Review of Futurecast 2020: A Global Vision of Tomorrow.
Review of Everywhere All The Time: A New Deschooling Reader.
Review of The Age of Stupid documentary.
Web Exclusives
Money is still deemed to have more worth than natural assets
Review of Wait for decisiveness to be informed by spirit of place.
Mary Oliver's poetry celebrates the utter and irreducible beauty of the ordinary world.
Whilst India boasts of economic miracles, the majority of the rural poor continue to suffer indignity and exploitation.
There is something of the visionary in the work of Peter Doig, yet a disquieting sense of tension and expectation permeates his paintings.
Review of Positively Responsible and The Difference Makers.
Review of Toward Saving the Honeybee.
Review of Quantum Shift in the Global Brain.
Review of Paper Trails: From Trees to Trash – The True Cost of Paper.