Songs of a Migratory Bird
Donate Now
Issue 254

May/Jun 2009
Elegant Simplicity
Reviews
Songs of a Migratory Bird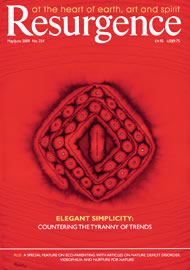 Cover: Painting by Sohan Qadri
Anvil Press Poetry, 2008, ISBN 9780856464065
RABINDRANATH TAGORE was a musician and songwriter, a playwright, a novelist, a painter, a philosopher, a teacher and, of course, a poet. Born in Calcutta in 1861 to a wealthy Brahmin family, he was knighted by King George V – an honour he subsequently rejected after the Amritsar massacre in India in 1919. He first visited England in 1878 when, for a short while, he studied law before returning to India to follow other paths, not least his poetry. Later, at the age of fifty-one, he returned to England with his son, and, on the slow journey by sea, began translating selections of his poetry, the Gitanjali or 'Song Offerings'. He was able to show these poems to
W. B. Yeats, who was enthralled by them and wrote: "These prose translations from Tagore have stirred my blood as nothing has for years." So began a fruitful relationship and a growing Western audience for Tagore's work. In 1913, he received the Nobel Prize for Literature. He died in 1941.
According to his biographer Uma Das Gupta, Tagore was exceptional in crossing the divide between East and West, describing himself as "a migratory bird having two homes". And of particular interest to readers of Resurgence will be his influence upon Leonard Elmhirst, the founder of Dartington Hall. The two men became great friends when Elmhirst visited India in the period after the First World War, and Tagore inspired his development of Dartington into a centre for education and the arts.
One of the major principles that runs throughout all of Tagore's work is that of harmony both in and between Nature and human society. His poetry, songs and dramas capture this in their references to Nature, and his work on social harmony began in 1890, when he started educating the Hindu and Muslim tenants in his family's agricultural estates in eastern Bengal. He called upon the villagers to participate in rural reconstruction efforts as "partners" not as "beggars" and to meet their own needs on a co-operative and self-sufficient basis. He sought to build a living relationship between the students and the local farmers, working together on the land, sharing ideas and joining together in music and dance.
Joe Winter, whose work on Tagore was recognised by the Tagore Institute of Calcutta's 2006 Award, lived in Calcutta from 1994 to 2006. In The Golden Boat he offers us a broad cross-section of Tagore's poetry. His voice is clear and light and by using modern phrasing, a familiar rhyming form and uncomplicated words, his translation gives us, perhaps, a first glimpse of what we, too, might find in Tagore. He reveals a number of Tagore themes: that of India herself, her traditions, her mysteries and her struggles, Nature and the relationship between humanity and Mother Earth, and love in its romantic, spiritual and magical forms.
Translating poetry is a challenging task, not least as, in this case, it is said that the original Bengali was especially ancient and wonderfully melodic. Many of Tagore's poems were, in fact, written to be sung, not read. Winter acknowledges the difficulty, recognising that "the true poet" can only be appreciated in the original. However, having asked himself the question, "Can a poem be translated?" he replies, "The answer is more yes than no." Indeed, he suggests that the possibility thereby exists for new understandings.
Tagore however, had misgivings about any translation of his poems from Bengali to English – including his own. For example, in a letter to Ezra Pound set out in an anthology of Tagore's works edited by Krishna Dutta and Andrew Robinson, he says, "When the meaning and music of [the] original haunts you it is difficult for you to know how much has been realised in the translation." It is said that he went further when, in a conversation with his biographer Edward Thompson, he said, "I have come to the conclusion that translating a poem is doing it wrong, especially when the original belongs to a language which is wholly alien to the medium of its translation… Can you ever imagine the best passages of Keats, Shelley or Wordsworth in Bengali – and would it not be a pure act of mercy to leave them out if you must translate their poems?"
Of course, a contemporary translation may offer an insight into a life and work that would otherwise be lost to us. But whilst Winter sees the wider importance of Tagore and says that "the poems are the underground support; the visible structure is in what he did elsewhere," he insists, nevertheless, that The Golden Boat should be enjoyed simply as a book of poems. But there is a danger in this, for the original poems are so rooted in the life of Tagore that there is the risk that, on their own and in translation, they may leave the reader with a partially uprooted tree on which to climb, explore and discover their true meaning.
In any event, if you start your exploration of Tagore here in
The Golden Boat you will have embarked on a wondrous and fascinating journey – and there is much for you to discover.
In 2011 there will be a Tagore Festival at Dartington Hall in South Devon, to celebrate the 150th anniversary of his birth. For further information email: satish@resurgence.org
David Cadman is a birthright Quaker and writer living and working in Aldeburgh, Suffolk. Kim Samuel is a Council Member of the Temenos Academy and lives in Toronto, Canada.