Music and Place
Donate Now
Issue 255

Jul/Aug 2009
Sacred Planet
The Arts
Music and Place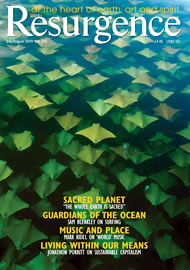 Cover: Cownose Rays Photograph: Sandra Critelli
Has the dislocation of 'world' music from its context in community and place led to multicultural mediocrity?
In the late 1970s, when rock music had become a little too pompous for its own good, the adventurous aficionado had, broadly speaking, two ways out: the do-it-yourself three-chord frenzy of punk – an energy-fuelled retreat from over-sophistication and commercialism – or the exploration of music from other cultures. Not that Balinese gamelan, Sufi qawwali singing or the soukous rhythms of dance music from Zaire were as simple as they first appeared, but there was a freshness there that appealed to the jaded ears of a generation.
I recall the thrill of first sampling ethnomusicological recordings on the French label Ocora and then hearing the Master Musicians of Jajouka when they were brought to the UK in 1980 by pioneering promoter Rikki Stein. It was as if we were being exposed, as we sat entranced at the feet of these master technicians of Moroccan musical healing, to the ancient taproots of the music we had grown up with: jazz, blues and rock.
I remember bumping into Peter Gabriel at a Talking Heads concert in London at the end of the seventies and both of us admitting that we were a little bored with rock and that it was African or Asian music that really excited us. We were by no means alone, and when this conversation and others grew, a few years later, into WOMAD (World of Music and Dance), the first British festival devoted to music from around the world, there was no doubting that this was a new movement, which would soon adopt the somewhat clumsy label of 'world music'.
At the first WOMAD festival at Shepton Mallet in 1982, the organisers had booked acts with insatiable eagerness. There was too much to choose from but the quality was superb: from the miraculous Dagar Brothers of India to the tempestuous Drummers of Burundi and from The Beat to Les Musiciens du Nil. At each subsequent festival, artistic director Thomas Brooman came up with delights to blast our ears open: Youssou N'Dour one year, the Bhundu Boys another and the show-stopping virtuosity of Nusrat Fateh Ali Khan, to name but a few.
From the start the festival took education very seriously: there were workshops in which artists put their music in context or talked about their instruments. They would often get the audience to sing or dance along and there was undeniable charm in the proceedings – albeit imbued with a touch of self-consciousness and the naive excitement aroused by exotic novelty.
WOMAD followed the example of camping-based rural festivals, re-creating for a weekend the feel of a village. The ethnic market at WOMAD was always a crucial element of the event, providing guilt-free and 'culturally correct' shopping therapy for mostly anti-consumerist festival-goers. There were unusual imported clothes and fabrics, musical instruments and jewellery, as well as books and CDs.
HOWEVER MUCH I value and enjoy WOMAD and similar festivals, I have felt uncomfortable, at times, being there. It is a weird kind of malaise, not least as it is mixed up with real excitement, a kind of guilt perhaps and all kinds of other complicated feelings. I had first felt something of this unease when I travelled to Morocco in 1982, just before WOMAD was created, in search of sounds to rival the brilliance of the Musicians of Jajouka. I wrote about this trip in Resurgence, a journey which turned into a futile quest for music as one both possessed by desire and desiring to possess: the best music I encountered was heard all too briefly out of the corner of my ear, as it were. I realised that the most significant music in a traditional society was often rooted in context – wedding, ceremony, ritual – and that it could not be 'bought' or consumed, even if an ethnomusicologist might film or record it. I came back clutching a few cassettes, but most of all with a feeling of being forever exiled from the heart of this entrancing musical world.
Some years later, I made a film which expressed some of my doubts about our eagerness to 'consume' music out of context: I filmed a group of Bayaka pygmies from the Central African Republic on a Paris visit. Pygmy music had never before been presented in a concert setting, and it was the singers' first adventure beyond the great forest. Their polyphonic singing was legend and the excitement about this 'first' was palpable. They had been quite literally plucked out of their natural environment by Danielle Mitterrand, wife of the French president, and the government of the Central African Republic.
Apart from the problems of remuneration and exploitation which inevitably plague the world music scene – in which there are probably as many angels as rogues – there was something decidedly odd about us watching the Bayaka do their forest singing in a Paris concrete and glass bunker. They normally sing to the trees and animals that sustain them, but here they were providing an inspiring curiosity for an eager crowd of spectators. The audience were, in a sense, on the pygmies' side, but it was 'spectacle' nevertheless, and I sensed real unease among the 'performers' – more, I believe, than a projection of my own sense of something being out of place.
Much later, on a trip to Bali, a place in which music is still deeply woven into the tapestry of everyday and feast-day life, and where the wealth of tradition is partly sustained by the performances that dancers and musicians give to earn money in the tourist hotels of Denpasar, I walked through the streets of Ubud and was startled to see African djembes on sale alongside didgeridoos and pottery from all over the world. Here was the retail trade equivalent of world music: an 'ethnic' display for tourists who barely cared about their provenance of their purchase so long as it was 'other' or exotic.
Maybe there's nothing wrong with a world in which distinctions have been blurred, as it is 'difference' that produces racial hatred and religious conflict. But is diversity to be destroyed in a quest for equal value and opportunity? Is 'place' to be abolished in the feverish quest for that exotic, pre-packaged paradise?
I KEEP COMING back to 'place', something that present-day communications have come close to erasing. I suspect that some of our thirst for the products of traditional culture has to do with a semi-conscious nostalgia for 'rootedness', for the more simple arrangements of a society in which everything is intertwined and meaningful. That old dichotomy between nomad and sedentary runs through these conflicts: the path out of the village as both opportunity and threat, a means of freeing oneself from the stifling constraints of tradition and place but the start as well of the long road to anomie and alienation.
Is this why, at last summer's WOMAD, as at previous festivals, I experienced a certain discomfort around the self-conscious, multicultural celebration that is supposed to provide a communal climax to the event: the long carnival-style procession made up of kids who have been making masks, costumes and giant puppets during the weekend, accompanied by their parents, some of whom gingerly tap tambourines or frantically beat other instruments of percussion? There is genuine enthusiasm here, and yet it all feels strangely dull and forced: might I be witnessing a ceremony unwittingly celebrating the death of local cultures and the triumph of multicultural mediocrity? I feel uncharitable writing this, denying the effort that has gone into involving the kids in creative pursuits, and yet...
In contrast, I have flashes of precious musical moments, at remote village feasts in the Greek islands, where traditional fiddle and lute players accompanied communal dancing; or nocturnal gatherings at 'fest-noz' in Western Brittany, where people danced in lines, stamping the ground in complex rhythms that affirmed place, tradition and continuity. The music was provided by a capella giants the Frères Morvan, whose rhythmic singing had a primeval power that I can still feel echoing in my body. Music and dance are so firmly connected to Breton place that dance steps vary from one village to another, even when only a few kilometres apart. Of course I was an outsider, and there is only a matter of degree between the cultural voyeurism I was indulging in and the more consumerist gatherings at WOMAD and other festivals. Maybe we're all outsiders now, yearning to belong.
WOMAD was, from the start, designed to appeal to a crowd used to the tired rituals of the rock concert – and the musicians from Africa and elsewhere soon learned the tricks of the trade: "Are you feeling all right?" "I love you, WOMAD!" they would cry, asking the audience, gospel-style, to clap along, wave their arms or sing a few phrases in some African language they did not understand. To the assembled hordes who had staggered over happily from the beer-tent or inhaled a decent dose of 'weed', this probably felt great. But very few artists could break the mould and transcend the pseudo-spiritual format of rock. WOMAD – like Glastonbury and other large-scale events – has always suffered from 'main-stage' formatting, and only the very best musicians are able to assert content and soul over format and slickness.
Performances on the smaller stages and in workshop settings usually draw strength from proximity, and the intimacy generated avoids the mass tactics of the rock arena. This may not be the village square, but it comes closer to the values of traditional culture in terms of scale and soul.
There is not the feeling of 'main stage dislocation' present at performances with musicians who have naturally developed a style that reaches out from traditional forms: Youssou N'Dour is a good example. At his first WOMAD appearance in 1986, he blew everyone else off the stage, the force of the thundering sabar drums underpinning his soulful voice. I was even more moved three years later when I heard him do a three-hour set (his usual format) before a largely Senegalese audience in New York's club S.O.B.'s. There was a community here – albeit of exiled Africans – and the dancing in the front rows was as much part of the music as any of the music being made on stage. Youssou's musicians seemed touched by a kind of grace that derived much of its power from an audience tuned in with heart, body and a genuine cultural connection.
The world music cognoscenti are no longer satisfied by the predictable format of festivals and are travelling to Far-Eastern Siberia, Rajasthan, Borneo or the Sahara to attend events that are more or less traditional although tourist-oriented. The Festival in the Desert, one of the most famous, not least because it has attracted international stars such as Robert Plant, has grown out of a traditional Tuareg gathering. The event is inspiring, uncomfortable and fittingly dangerous. But for how long can this continue? The unbridled race for progress still breeds a paradoxical nostalgia in those who have escaped the process of exponentially accelerating change.
THE DIVERSITY OF music – as that of language – is shrinking fast. The universal language of the future, as James Hillman once suggested to me, is "bad English". Hopefully the music of the future need not be bad too, but who knows? Music can find new forms every time players and singers come together. The new mixes, or métissages as the French would say, combining images from racial inter-marriage, can be exciting, and music has, throughout the history of humankind, developed and changed through such cross-cultural encounters.
What may be different today is the dizzying mixture of scope and speed, the instantaneous buzz of the web and the superficial facility of a humanity that has naturally taken to multi-tasking. A dhrupad singer in India or a Dagomba master drummer in Ghana needed a lifetime and almost superhuman discipline and focus to learn the nuances of a tradition that had grown very slowly over many centuries. It's hard not to feel the sadness around dying forms and to embrace the hope that humankind can forever re-invent itself, culturally and spiritually.
For festivals like WOMAD, the responsibility is a challenging one. As traditional communities disappear, virtual ones have taken over and it is through live and 'real' communal events that the depth and diversity of human culture will re-create itself or go into terminal decay.