Sacred Planet
Issue
255

• July/August 2009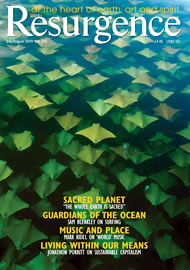 Buy a copy of this issue
Become a member and receive 6 issues a year
Contents
Key
Free for all to view
Free for members to view
Not available
Welcome
The sacred Earth is a gracious host, but are we prepared to be pilgrim guests rather than tourists?
Frontline
Why 350 is the most important number in the world.
Indigenous languages are a vital storehouse of knowledge.
Life as we know it could be wiped out if one species of insect vanishes from our countryside.
Keynotes
The solution to the ultimate recession lies in sustainable capitalism.
We grow from the compost of those who have died.
Quotes
I can't believe I'm laughing.
Biocultural Diversity
Sacred sites are like a network of acupunture points across the Earth.
A passion for riding waves is the perfect way to nurture an ecological conscience.
Human beings can return to the place where the spirit keepers live.
An interview with Macuna Indians from the Colombian Amazon.
Cultivating respect for local traditions amongst tourists to North American sacred sites.
The sacred landscapes and seascapes of ancient Europe can still be seen by those prepared to look beyond the usual tourist experience.
Undercurrents
Genetically modified plants and animals have fallen far short of scientists' predictions.
Our waste is the shadow side of our economy, not the mark of a civilised society.
The bottom-up participatory process that is the Transition Movement.
A green perspective on the current state of our economy.
The Arts
Has the dislocation of 'world music' from its context led to multicultural mediocrity?
John Maltby's original and imaginative forms and symbols.
Regulars
An Anthology of new poetry.
Finding solace in the Sinai desert.
Real travel is about being present, feeling alive and relishing every moment.
A stunning lakescape covered in ever-shifting light, wind and rain which lured me back time after time.
The hypnotic rhythms and luminous incantations of the 18th-century poet Christopher Smart.
Tackling climate change takes more than just purchasing an electric car.
Reflections on over population and heatlhcare.
Reviews
Review of Sacred Places: Sites of Spiritual Pilgrimage.
Review of The Phoenix Economy: 50 Pioneers in the Business of Social Innovation.
Review of The Green Collar Economy: How One Solution Can Fix Our Two Biggest Problems.
Review of The Vanishing Face of Gaia: A Final Warning.
Review of Connermara: The Last Pool of Darkness.
Review of Hiddenness, Uncertainty, Surprise: Three Generative Energies of Poetry.
Web Exclusives
Review of Elephants once ranged throughout most of Asia, but now their habitat is reduced to isolated fragments.
In Ethiopia people are embracing local and ecological knowledge to protect and enhance the integrity of their land.
Integrating human beings with their non-human parents.
Sacred sites are the acupunture points of the planet.
Review of Plant Lives: Borderline Beings in Indian Traditions.
Review of Sustainability by Design: A Subversive Strategy for Tranforming our Consumer Culture.
Review of Hope and the Magic Martian.
Review of The World We Have: A Buddhist Approach to Peace and Ecology.
Review of Sustainable Energy - Without the Hot Air.
Review of Soil Not Oil: Climate Change, Peak Oil and Food Insecurity.
Review of Zoro's Field: My Life in the Appalachian Woods.
Review of Slow-tech: Manifesto for an Over-wound World.
Review of Jill Paine: A Life Inspired by Nature, Art and Spirituality.
Review of Grace: Pilgrimage for a Future without War.
Review of How the Rich are Destroying the Earth.