Beyond Cultural Narrowness
Donate Now
Issue 256

Sep/Oct 2009
Exploring Consciousness
Web Exclusives
Review
Beyond Cultural Narrowness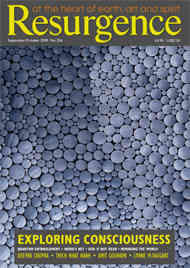 Cover: Infinity Dots H.R.T. 2001 by Yayoi Kusama. Courtesy: Ota Fine Arts, Tokyo
Brian Murphy appreciates the work of an artist who would not be bound by convention. Betty Swanwick: Artist and Visionary Paddy Rossmore Chris Beetles Gallery, 2008, UK, ISBN 97819057380308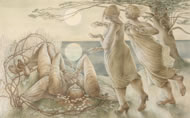 The Trespasser by Betty Swanwick
Betty Sanwick's eccentricities and the vagaries of her life paint a most interesting story and Paddy Rossmore and co-contributors David Wootton and Barry Viney tell this story to good effect. Swanwick has never had the recognition she deserves and this book sets out to make amends.
Wootton's Foreword is in a refreshingly accessible style. He summarises the stages of Swanwick's art in all its aspects. Her early illustrations and designs depict an Englishness of a bygone era. Later she was driven by passion for the natural environment and a spiritual fervour, although she was not a follower of organised religion. Wootton briefly mentions some of the sources of her inspiration: Hellenic and Hebraic tales, artists such as Samuel Palmer, William Blake, Thomas Bewick and Thomas Rowlandson, and the composers Delius and Elgar. He also alludes to her character and its effect upon her art. Swanwick was a complex and guarded person who revealed contradictory parts of her personality to different people.
The Foreword is followed by a biographical and bibliographical chronology which is fascinating not only for what it tells us about Swanwick but also for its little insights into our own age. In 1961, for example, Goldsmiths' College started to follow national guidelines for art education. Illustration became a part of graphic design, and a foundation course was almost obligatory before taking a degree. This was the beginning of a process of formalisation in art education which Swanwick regretted and which nine years later led to her resignation as senior lecturer at the college. She had no time for what she regarded as a "cultural narrowness"that was sweeping art colleges in the late sixties and her resignation letter was sharp and witty.
Swanwick was not opposed to modernism but was against what she regarded as a "hostile hierarchy"at Goldsmiths' which did not allow her to teach what she regarded as the fundamentals of art. She wanted to inspire students with stories, to introduce them to the artists she loved and to teach life drawing and drawing from all things natural. She left Goldsmiths' in what can only be described as an unhappy state. Eventually her work was sought after by a small band of serious collectors, and as fashions and ideology changed it was not that long before she was back teaching life drawing at Goldsmiths' college on a part-time basis.
The nucleus of the book is Rossmore's fascinating appreciation of Swanwick's later and most accomplished work: her visionary watercolours and drawings. Rossmore focuses on their psychological profundity and their narratives, discussing her working methods and technical accomplishment. Rossmore's appreciation is insightful because it draws on his own personal friendship with Swanwick and includes many quotes from conversations they had together. He discusses the tradition in which she worked and the spiritual dimension of the ideas that drove her work forward. Quotes from Paul Nash and Carl Jung, and references to William Blake, John Bunyan, John Milton and many others all help to make Rossmore's chapters extremely readable and enjoyable.
The concluding part of the book contains a catalogue raisonné, a section on her work in public collections, a gallery review and articles by Carel Weight and Stephen Gardiner, and an article by Swanwick herself, all of which helps to give the study a feeling of energy and vibrancy.
Art books should also have lots of pictures, and this one does. It is awash with illustrations of high quality. It is a large book but not so large that it is uncomfortable to hold. The layout is superb and the attention to detail throughout quite amazing. Swanwick with her eye for detail would have approved. •