Exploring Consciousness
Issue 256 • September/October 2009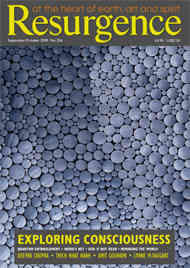 Buy a copy of this issue
Become a member and receive 6 issues a year
Contents
Key
Free for all to view
Free for members to view
Not available
Welcome
Consciousness is not merely a philosophical or scientific theory: it is a living reality.
Frontline
Exploring the tree-based revolution of Tamil Nadu.
Elephants once ranged throughout most of Asia, but now their habitat is reduced to isolated fragments.
An indigenous tree that can reforest land and provide high-quality oil.
Transformational learning at Embercombe, Dartmoor.
Consciousness
We are all entangled in consciousness.
An interview with Rupert Sheldrake.
Will humanity take a quantum leap in consciousness, to create a resilient future?
In Indra's Net, the one is present in the all, and the all is present in the one.
Quantum possibilities are created with the interjection of consciousness into physics.
New scientific stories with which to reimagine our future.
Shamans, Yogis & Alchemists • Ralph Metzner
Ancient tranformative teachings that can help us realise our potential.
Death is a much more mysterious process than the mere switching-off of life.
Undercurrents
Recognising our ultimate interdependence with the natural world is a key to successful business.
The Arts
Art and Consciousness • Sandy Brown
The art we choose to make and buy represents the state of our collective psyche.
For Bauls of Bengal the ecstatic path of music is their way of life.
Reflections on the work of Russian painter, Vladimir Zaitsev.
Regulars
Deep Spirit

- The Muse • Thomas Moore

Recognising the other forms of consciousness at work in the world.
The Occasional Didymus

- Dead or Alive • John Moat

The 'quantum' occassional Didymus.

Mary Oliver's poetry celebrates the utter and irreducible beauty of the ordinary world.
Short Story

- Postponed Mangoes • Shakti Maira

Day after day the most delicious mangoes would be harvested, but none eaten.

What do I miss from my old life? I miss out on bank statements, utility bills and traffic jams.

Foraged foods and garden delights combine to create an unusual treat.

Stop what you are doing now, and do what your ancestors did.

Patience and slow observation are key to knowing a place well.

Inspiring in blossom, nurturing in their yield, they are the very heart of our gardens.
Letters to the Editors
Members' Page

- Are You an Earth Pilgrim? • Ian Tennant

Inspiration from Satish's new book, Earth Pilgrim.
Quotes
The Matrix of Matter • Max Planck
The mind is the matrix of all matter.
Reviews
Review of The Akashic Experience: Science and the Cosmic Memory Field.
Review of A Renewable World: Policies, Practices and Technologies.
Review of The Living Universe: Where Are We? Who Are We? Where Are We Going?
Review of Essential Agrarian and Environmental Writings.
Review of Ivon Hitchens.
Review of Seven Days in the Art World and Art and Upheaval: Artists on the World's Frontline.
Review of Beauty.
Review of The Third Jesus: How to Find Truth and Love in Today's World.
Review of Weeds and Wild Flowers.
Review of Imagining Place: Photographs of a Tall Grass Prairie.
Review of The Transition Timeline: For A Local Resilient Future.
Review of Sense and Sustainability: Educating for a Low Carbon World.
Review of Time's Up! An Uncivilized Solution to a Global Crisis.
Review of Mercurius: The Marriage of Heaven and Earth.
Web Exclusives
Following your dreams can lead you on a journey of unexpected dimensions.
Review of Betty Swanwick: Artist and Visionary.
Review of The End of Money and the Future of Civilisation.
Review of Solsbury Hill: Chronicle of a Road Protest.
Review of Failsafe: Saving the Earth from Ourselves.
Review of Changing Course for Life: Local Solutions to Global Problems.
Review of Inquiries Into the Nature of Slow Money: Investing As If Food, Farm, and Fertility Mattered.
Review of Dignity and Defiance: Stories from Bolivia's Challenge to Globalization.
Review of Edward Carpenter: A Life of Liberty and Love.
Review of Out of Time: Poems 1998-2008.
Review of Water Conflicts in India: A Million Revolts in the Making.