Big Bang Lab
Donate Now
Issue 257

Nov/Dec 2009
Resilience & Climate Change
Frontline
Big Bang Lab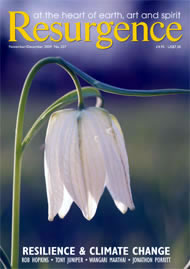 Cover: White Snakes Head Fritillary Photograph: David Hall/WWT
Sergio López Figueroa explains how the Delhi City Symphony has helped change the lives of people with limited prospects.
Engaging communities with their values, collective memories and heritage in a way that is open, relevant and sustainable is at the core of Big Bang Lab, a cultural, social enterprise working across film, music and heritage. A turning point happened earlier this year when I received a Cultural Leadership award for Creative Entrepreneurs to work in India supported by the British Council. Delhi City Symphony was the outcome, a successful project proving that archive films and media are powerful learning and outreach tools for tackling contemporary issues across cultural backgrounds.
The process of musical heritage engagement was simple: the innovative approach to new music-making using balloons, singing and real car-horn sounds was the starting point for questioning the accessibility of Indian classical music education. Audiences were interested in live music for a new contemporary silent film created and performed by young children, a group of boys and girls living in shelter homes with a history of child abuse, trafficking, child labour and displacement. The host organisation was Prayas, a national non-governmental organisation supporting these underprivileged children through various holistic programmes. This project made visible the hidden creative power of their children.
Together they made a digital film about Delhi, focusing on its heritage and present life. The structure was created as a reaction to the visual material available, not by following a script. "Heritage is not only about the past. We are creating 'Heritage' right now," expressed Kamalini Dutt, Director of Doordarshan TV Archives, who supported the project and the use of archive footage.
The children contributed to the film by shooting at various locations and also interacted with local communities. Amongst many other outcomes, the process helped the children to judge the consequences of the lack of waste management affecting a local heritage site – Tughlakabad – and to look more deeply at the effects of consumer culture. After the project some children wanted to do something to preserve their heritage and most of them were not happy with the amount of rubbish in their locality.
The collective editing took place at Frameboxx, a school of animation providing resources and volunteers in kind. The final film was presented with live music on World Heritage Day at the India Habitat Centre, a central cultural venue in the city and another active supporter of the project.
The co-creation of the new live soundtrack was a successful achievement, working together with a group of young classical Indian musicians. I was really pleased to hear that as a consequence the participants wanted to learn to play instruments from their own cultural heritage through formal training. This project proved that young people can be encouraged to reconnect with their cultural traditions and values whilst being empowered as responsible citizens.
To learn more about Delhi City Symphony and watch videos related to the project please visit www.delhi-citysymphony.com