Extreme Knitting
Donate Now
Issue 258

Jan/Feb 2010
Liberty
The Arts
Extreme Knitting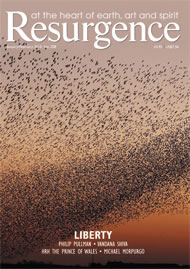 Cover: Common Starling flock, Dumfries, Scotland. Photograph: Paul Hobson/FLPA
There's a revolution going on behind scenes in the world of knitting with a group of artists raising this once traditional and undervalued skill to a new contemporary art form.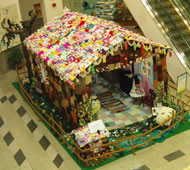 The Gingerbread House in a shopping centre in Thailand. Photograph: Courtesy Alison Murray
Practically right on my doorstep are two of the most extraordinary knitters in the world. Using bits and pieces and leftovers of wool, and involving over 1,000 more knitters around the world, the mother and daughter duo of Ann and Alison Murray have knitted a complete full-size house, including knitted garden, knitted fencing, and knitted 'For Sale' sign!
All the slates on the roof are knitted, as is the furniture inside, like the kitchen dresser, table, chairs, cups and saucers, numerous delicious-looking fancy cakes and a treasure chest full of toys. It is called the Gingerbread House.
It was installed to great acclaim in the local shopping centre where the general public could enjoy it, has been on tour around the UK, and recently has returned from a special invited trip to Thailand. In Thailand knitting is very popular and the people there were captivated by this extraordinary artwork. Whilst in Thailand, Alison taught more people to knit, including many boys.
The house arose after their first project, four years ago: a relatively modest project, being simply a full-size knitted Christmas tree. It was thirty feet tall and consisted of thousands of leaves festooned with hanging Christmas decorations and presents. It made you laugh to look at it, seeing the fun and playfulness and sheer absurdity of it.
As someone who works as an artist and who has initiated an annual visual arts festival, I know how hard it is to raise funds for art projects. Alison and Ann Murray, however, have created this amazing project with no public or any other funding. In fact, they have raised money for several charities, including £20,000 for the North Devon Hospice.
It is a lesson for all those involved in the arts: that with the right project and bucketloads of enthusiasm, and a medium which many people understand – knitting – it is possible to produce something wonderful without any formal means of support. Ann and Alison sold hundreds of small knitted gingerbread men to fund the house, and produced a book of recipes for gingerbread biscuits and cakes that they also sold to support the work.
Alison is an amazingly imaginative knitter, playing with and exploring all possibilities, and is truly inspirational in the way she is able to attract so many people to become involved. She talks nineteen to the dozen, smiling all the time, explaining how much she enjoys going into schools and teaching children to 'finger-knit'. This year her chosen charity is the Royal National Lifeboat Institution (RNLI), so she has been teaching the big men who tie ropes and go out in the wind and rain to knit too. When she and her mother go into schools to teach knitting they charge no fee; she earns her living as a chaperone for child film and television actors, and spends all her earnings on spreading the word about knitting.
You cannot help smiling as she talks about how men are crocheting jellyfish for her next project. This one is to be launched at the Appledore Visual Arts Festival in 2010 and is called Above and Below the Waves. It is to be a huge walk-in underwater knitted aquarium. Already boxes of pink woolly coral are arriving on her doorstep, practically daily, as word spreads around the knitting community that the call is out for knitted fish and suchlike. Sometimes the boxes of knitted goods are left anonymously, as people just want to contribute and feel connected.
It is a family concern, as Alison's uncle John, who works as a theatre set designer, provides the infrastructure for the big knitted artworks. Meeting the three family members together is a delight as they talk animatedly about what amazing knitted pieces people produce for them, and show each other the latest box of treats to arrive: a set of knitted lifeboatmen, with great attention to detail, down to the knitted chinstraps under their helmets. Also in the box were some knitted divers, complete with knitted snorkels and breathing masks.
This is contemporary folk art of the highest quality. It has its roots in an ancient tradition of gathering wool and using found materials to spin, knit, and create clothing. Now we have a new group of artists, using a medium undervalued because it is traditionally done by women, which draws on the inspiration of many women around the country and the world, who are delighted to be able to playfully knit things they might not otherwise have done, such as mussels, mermaids and buoys. They find it a liberating experience. One woman said to Alison, "Now there is no limit. Let's knit a Concorde aeroplane!"
They have persuaded the Appledore Sub Aqua Club, a bunch of hearty people who document the waters in the Maritime Conservation Area around Lundy Island in the Bristol Channel, to knit under water. The men talk proudly about their Extreme Knitting and show off their colourful starfish, and sit on the sandy sea bottom with knitting needles in hand.
Knitting rejuvenates the elderly too: Alison and her mother have gone into care homes to involve people there and have been amazed at the way the residents have contributed. They say they like "being part of something big". It can help people as therapy too. One woman who helped Alison said, "Knitting saved me as I was sitting beside my husband who had had a stroke." And it has been found that disruptive children in class are quieter if they have some knitting to do during lessons.
Above and Below the Waves promises to be spectacular. Already the full-size mermaid is attracting admiring glances. You can participate too if you wish, by contacting Alison Murray – she will send you all the information you need. She likes you to use recycled wool, and to go to charity shops to find knitted clothes which can be re-used.
For more information contact Alison Murray: alisonmurray@yahoo.com