Gazpacho and Coffee
Donate Now
Issue 258

Jan/Feb 2010
Liberty
Regulars
Recipes
Gazpacho and Coffee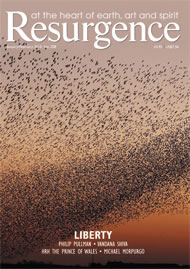 Cover: Common Starling flock, Dumfries, Scotland. Photograph: Paul Hobson/FLPA
If we can bring together growing food and cooking, the results will be radical.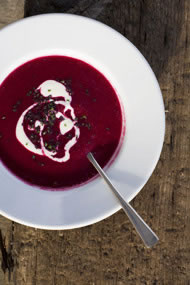 Beetroot soup. Photograph: Courtesy Sam Hofman/Riverford
Recently I prepared gazpacho for Armando, whose family grow biodynamic coffee in North East Brazil. We were discussing how we could market his smallholder, sustainably grown, 100% Arabica coffee beans to our veg box customers. The quality was undoubtedly wonderful, both in flavour and in terms of social and environmental justice, but after six months in the UK Armando had realised that this, on its own, would not sell his coffee. There was a whole industry between him and his potential customers: an industry more interested in using its brands to protect margins than it was in quality; an industry adept at alluding to provenance but with a vested interest in keeping him and his fellow farmers as far from coffee drinkers as possible. He had approached Riverford because we are farmers who deal directly with our customers and have acquired a reputation for caring about fairness and flavour.
Despite being made from ingredients picked from our fields just hours earlier, the soup was unsatisfactory. Annoyingly, after the first mouthful Armando was able to tell me the problem: "The tomatoes are not ripe enough." His tone intimated that it was obvious and only a fool would not be able to identify this. Infuriatingly he was right; our pickers had been there before me, leaving only the under-ripe fruit; but how could he be so sure?
The answer emerged later in our conversation as he described the food and culture of his home region, where the journey from field to kitchen to plate is short and unpunctuated by the interventions of distant food manufacturers, distributors and retailers. Brands have no place because everyone has the skill and confidence to recognise good food, they understand that you need good ingredients to make it, and they have the confidence to make these judgements without the embellishments that define our food brands. In Armando's view, his staff, earning £7 a day and growing their own vegetables amongst the coffee, ate better than most British people earning ten times as much. He went on to say, in a bemused way, that our food seemed to be more about consuming adjectives than quality, citing the packaging in supermarkets and the absurdly florid descriptions on restaurant menus.
Armando had been in the UK for several months, looking for a market for his premium-grade coffee, and he described a visit to one of the biggest processors of coffee where an impressive machine processed coffee with lightning speed, precision and efficiency, roasting, grinding and firing it into the bags of many of the leading brands – including several supermarket own brands. The machine raced on from one brand to the next, premium to commodity with just a change of packaging and adjustment of the roasting and grind. The brand and the adjectives on the packaging changed but the beans were the same, bought as a commodity on the world market.
Not surprisingly, the big processors were not interested in Armando's paltry thirty tonnes of premium beans, grown in the small, mixed and sustainably managed fields of his fifteen co-operative members. And even less interested that the same picking families sing and dance most evenings and return year after year because of the fairness and respect with which they are treated. I feel sure that many potential customers would be interested, especially as the margins in the coffee trade are so large that, given a more equitable distribution, this biodynamically grown, organic coffee would only cost about 30% more than low-grade, non-organic, commodity coffee on the supermarket shelf – perhaps amounting to 2 or 3 pence per cup.
Just as farming can and should be a beautiful, humane and harmonious process, so can cooking and sharing food. At their best they both involve passion and love and are central to our health and culture. In twenty-five years of showing people around our farm, from chefs to amateur cooks to coke-swilling, disaffected young people, I invariably find that proximity to growing food leads to an interest in and enthusiasm for cooking it. On the other hand, nothing is more guaranteed to destroy the desire to cook than the sensory deprivation of a sterile supermarket aisle, however many tens of thousands of anonymous, over-packaged, cleverly labelled goods are on offer.
If we could just bring the growing and cooking of food together the results would be radical: we would have no need for a 'five a day' programme or 'Jamie's school dinners'; no need for a Food Standards Agency, a Food Ethics Council or even a Food Commission. The transformation of our food, farming and culture would be huge – inevitably and unquestionably for the better. Nothing can beat the touching, smelling and seeing of physical proximity.
Call me a hippy if you like, but that transformation is already happening. A staggering 43% (and rising fast) of Riverford customers now grow some of their own vegetables. No doubt this is a highly selective sample, but the public appetite for shortening the food chain is much broader and can be seen everywhere, from the huge rise in gardening, farmers' markets, box schemes and farm shops, through our supermarket's tokenistic but publicised shows of local sourcing, to the absurd claims of 'home baked' or 'farm fresh' or the nonsensical 'sun blushed' tomato, or the Columbian black-tailed hen (seldom black-tailed, not from Columbia, and known as babcocks until they got re-branded).
The significance is not in the laughable absurdness of these claims but in the effort that goes into making them. The marketing agencies and brand consultants, who pride themselves on knowing what we want even before we do, have recognised the gathering desire to connect with how our food is produced. They have responded with their snake-oil skills and given us soothing, largely meaningless words. Whose 'home' were those hundred thousand pies baked in? How can 'local seasonal' vegetables advertised on that chain menu include French beans and broccoli in January?
Were it not for the power of the internet (complete with blogs, Twitter, Facebook and the rest) to provide direct and uncensored communication, it is possible that our food industry would manage to defend its factories, warehouses and global distribution with its smokescreen of marketing-led, brand-defending drivel. In my travels to suppliers around the world and in conversations with cooks at home, I have encountered a quiet determination to reclaim a healthy, wholesome and enjoyable food culture, which has given me renewed optimism. My experience at Riverford has been that bringing those cooks and farmers together realises a joy in and enthusiasm for food – which makes change inevitable.
Do we really want Jimmy's Farm or Hugh Fearnley-Whittingstall's River Cottage, or is that just another fantasy? Will our food industry, with such vested interest in defending the status quo of factories, warehouses and global distribution, be able to keep farmers and cooks apart? If markets really delivered what customers wanted change would be inevitable.
The nation is emerging from a mind- numbing, brand-induced stupor to realise that cooking can and should follow directly on from farming and that the food will be all the more enjoyable for it. The food industry will resist – lobbying, marketing and misrepresenting whilst appealing to our basest desires with fat, salt, sugar and convenience. Our customers tend to be abnormally vocal, questioning and well informed, but they are also trendsetters. In the age of blog and Twitter trends spread fast.
Beetroot Haters' Soup
By Jane Baxter, Riverford Field Kitchen
Taken from the Riverford Farm Cook Book
Serves 4
Ingredients
2 tbsp olive oil 1 onion, chopped 1 potato, peeled and diced 2.5cm (1") piece of fresh ginger, grated or finely chopped grated zest of 1 orange, plus extra to serve (optional) juice of 2 oranges 3 medium beetroots, cooked and cut into small dice 1.2l (2½ pints) water sea salt and freshly ground black pepper a little cream or yoghurt, to serve (optional)
Heat the oil in a large pan, add the onion and fry until soft but not coloured. Add the potato and ginger and fry for three minutes. Add the orange zest and juice, plus the beetroot and water, then bring to the boil and simmer for twenty minutes, until the potato is tender. Blend until smooth. Reheat gently and season to taste.
Serve garnished, if you like, with a swirl of cream or yoghurt and a little grated orange zest.