Guardians of the Countryside
Donate Now
Issue 258

Jan/Feb 2010
Liberty
Web Exclusives
Review
Guardians of the Countryside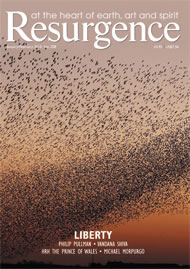 Cover: Common Starling flock, Dumfries, Scotland. Photograph: Paul Hobson/FLPA
Lorna Howarth is enchanted by a children's book that bestows a deep love of the natural world. Otter Moon, Tudor Humphries. Boxer Books, 2009. ISBN 9781906250683.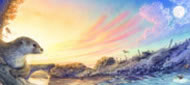 Illustration: Tudor Humphries.
This new book written by Tudor Humphries, an established children's book illustrator and watercolour painter will envelop your youngsters in the beautiful countryside of North Devon. Its large format reveals the glorious landscapes that were once the domain of Tarka the otter, but have now given birth to Flibbertigibbet, the lazy young otter who is sent on a quest by the King of the River.
As Flibberty sets out on his adventure, we are taken on a night-time journey along the mighty Torridge river, through countryside populated with deer, kingfishers, bats, herons and, of course, otters, though your children will have to look closely to find these timid characters, as they observe Flibberty's efforts to find a silver dish to serve the King his breakfast of fish.
The landscapes that unfold before your eyes are the very real ones of Tudor's locale: places where he has communed with nature for over thirty years, and all the characters you see are the patient recreations of the animals Tudor observes during his nightly sojourns to his "church" – the riverbanks where he finds spiritual nourishment, and where he has quietly and without fanfare, become a guardian of the countryside.
For Tudor, the opportunity to write Otter Moon came on the back of disappointment: for many years, he'd hoped to illustrate a new edition of Tarka The Otter, but despite much negotiation, the opportunity never arose. Then, Tudor's own publisher asked that he should write and illustrate a children's book on any subject he wished, and so, Flibbertigibbet was born.
Tudor's watercolour paintings for this magical book are the result of a great deal of research and observation: his workroom is packed to the rafters with files full of photos and drawings of herons, kingfishers, landscapes and moonscapes. "I immerse myself in my subject matter and then wring myself out on the page," Tudor explains. He captures the essence of the creatures he paints: his otters in the water are utterly liquid and fluid.
If future generations are to protect the natural world and become guardians of the countryside themselves, they have to love nature. Sadly, children these days are suffering from 'nature deficit disorder': they play virtual hide and seek on their Nintendo's rather than in the woods, which are considered too dangerous. Reading Otter Moon to children at bedtime will introduce them to a world of sublime beauty, where animals co-operate and play together and where nature in all its glory illuminates the pages of this simple yet lyrical story. Ultimately it will encourage them to explore the natural world for themselves.
A wonderful introduction to nature for children aged three to six.