Vitality of Spirit
Donate Now
Issue 259

Mar/Apr 2010
Seeds of Change: The Future of Food
Reviews
Vitality of Spirit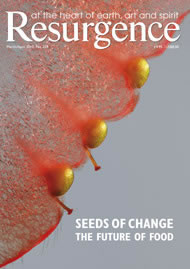 Cover: Light micrograph of part of a thinly sliced section through a strawberry. Photograph: Eye of Science/Science Photo Library.
John Lane reviews two new books about one of England's great visionary artists. In Celebration of Cecil Collins: Visionary Artist and Educator, Nomi Rowe (ed.). Fool's Cap, 2008. ISBN 9781872468990. Cecil Collins: The Artist as Writer and Image Maker by Brain Keeble. Golgonooza Press, 2009. ISBN 9780903880831.
In 1982, I was invited to write an introduction to an exhibition of the paintings of Cecil Collins to be held at Plymouth Arts Centre the following year. I knew some people (including myself) considered him an important visionary artist, but I was surprised to discover how little information there was about him. Today, the situation is very different: there is a great deal of writing about him, including the catalogue written by Judy Collins for his Tate Retrospective Exhibition of 1989, William Anderson's critical biography of 1988 and essays by Peter Fuller, Kathleen Raine and others.
Last year, the centenary of Collins' birth saw a number of celebratory events including the publication of a handsome book, In Celebration of Cecil Collins: Visionary Artist and Educator, by Nomi Rowe, one of his former students. This is probably the best general introduction in print to him and his work. With its dozens of large colour reproductions it is certainly the most profusely illustrated. It was the editor's decision to create, she writes, "a portrait, a mosaic in words, with the reflections and memories of his students and friends … there are a number of excellent books on Cecil but I felt that this compilation would convey his vitality of spirit and sense of fun."
Nomi Rowe's efforts to meet and record the many people – curators and gallery owners, students, models and colleagues – who contributed to this volume were a labour of love, but one that includes a fair measure of censure and criticism. Yet, in spite of his flaws, Collins comes across as a remarkable human being, a man whose creative work was resplendent with a prodigality of imagination of unequalled power and numinosity.
This book includes contributions from some well-known people such as his wonderful wife, Elizabeth, Sir Nicholas Serota, Peter Nahum, Patrick Reyntiens, Robin and Anne Baring, Thetis Blacker, Mary Fedden, Richard Lannoy, Jonathan Stedall and the composer John Tavener, but the bulk of it is made up of material contributed by his students. Their comments are often the most insightful and, in some cases, the most moving to be found here. I should add that the book's strength lies largely in its emphasis on the artist's innovative aims and methods of teaching. If you want to know what he was like and how he taught, this is the book for you.
Brian Keeble makes his own contribution in another recent book. There is no-one, I believe, who has made a greater contribution to the study and appreciation of this artist's thought and work than Keeble, some of it published in his own name and some via the Golgonooza Press, which he founded and has sustained for many years. He was the editor of Cecil Collins' writings in The Vision of the Fool and Other Writings (2002) and another important book, Meditations, Poems, Pages from a Sketch Book (1997). Furthermore, there is his highly valuable conversation with the artist entitled 'Theatre of the Soul', published in Temenos No. 1.
His more recent reflections are to be found in Cecil Collins: The Artist as Writer and Image Maker, a distillation of years of thought about an artist who holds an assured place among the great painters of the English mystical tradition of William Blake, Samuel Palmer and others.
Yet, although Cecil Collins is an important painter and printmaker, he is no less significant a thinker about the place of the arts in society. He was one of the first to foresee that modern art was approaching a severe crisis and to argue that it should undergo a profound revaluation. Yet when this takes place, Brian Keeble's text (alongside the writings of such Traditionalists as A. K. Coomaraswamy) must play an important role. Cecil Collins: The Artist as Writer and Image Maker may not be an easy read, but like so many books of high philosophical contemplation it is most certainly worth the effort.
This book is also exceptionally well designed. Included are thirty-six plates, mostly in colour, from all periods of the artist's life and rarely or never before reproduced.