Seeds of Change: The Future of Food
Issue 259 • March/April 2010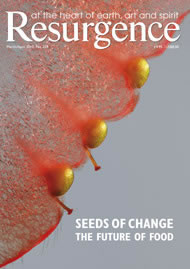 Buy a copy of this issue
Become a member and receive 6 issues a year
Contents
Key
Free for all to view
Free for members to view
Not available
Welcome
Food from trees and vegetarian food grown organically are an ecological imperative.
Frontline
101 Solutions to Climate Change • Lorna Howarth
How long could it take for the world to be powered entirely by renewable energy?
China's young people ask for more information on climate change.
Beyond the debates, protests and walk-outs, there was much to be inspired by at COP15.
The Billion Acts of Green campaign is a chance to make a difference and be part of history in the making.
Victory for Indian Wildlife • Lorna Howarth
A tiger reserve and a key elephant migration corridor has been protected.
Honouring the world's best climate change reporting.
Undercurrents
A Gandhian approach to domestic violence that really works.
Why we must now ask what we need to give back to the bees?
Quotes
Strong in the rain, strong in the sun.
Manifesto: The Mad Farmer Liberation Front • Wendell Berry
Praise ignorance, for what man has not encountered he has not destroyed.
All the joy the world contains.
Keynotes
Those who know they have enough are already rich.
Food
The future of food and the future of humanity are intricately linked.
Why the future of food must be rooted in an organic ethos.
Food sovereignty respects women's rights, including the right to food.
Globalisation may produce cheap food, but who really benefits?
Eating less meat may be the best way of tackling global warming.
Fairtrade is a real success story for producers and commnunities
Farms as living models keeping our sacred knowledge alive.
The Arts
The Beauty of Nature • Peter Adams
Through art and imagination, humans can learn to love the Earth again.
Regulars
Poetry

- A Recipe for Water • Gillian Clarke

Intense lyrical poetry that displays the beauty of Nature.

A wry look at the cap and trade CO2 emissions schemes.

The delicious scent and versatility of sweet peas has given rise to whole societies of passionate aficionados.

India has over-exploited her groundwater, creating water famine.

Cutting your carbon footprint will bring a clear conscience and maximum joy.
Pioneers

- In the Cosmic Swimme • Eric Maddern

The Universe is moving in a clearly purpose-filled direction.
Food

- The Market Dogma • Guy Watson

The market can be a useful tool but a clumsy master.
Deep Spirit

- An Ecological Sense of Home • Thomas Moore

An awareness of health, harmony and beauty is all places and settings is the wider meaning of ecology.
Letters to the Editors

- Bird Appreciation

Taking action for the wellbeing of the planet.
Reviews
Review of The Future of the Ancient World: Essays on the History of Consciousness
Review of The Poet of Ecology: A Selection of Writings in Memory of Robert Waller
Review of The Wisdom of Sustainability: Buddhist Economics for the 21st Century
Review of The Search for Spirituality: Our Global Quest for Meaning and Fulfilment
Review of The Liberal Defence of Murder
Review of In Celebration of Cecil Colins
Review of Where on Earth is Heaven?
Review of Drawn to Antarctica: An Artist's View
Review of A World without Bees: The Mysterious Decline of the Honeybee and what it Means for Us
Review of Sun of gOd: Discover the self-Organizing Consciousness That Underlies Everything
Web Exclusives
We have regulated food production to a mostly remote economic sector.
No-one should be denied access to healthy, affordable food.
The future of food, agriculture, development and sustainability depend on small-scale farmers.
The goal of mountaineering is to explore rather than to conquer.
Experiment with nature's rich harvest.
Don't ask what the world needs. Ask what makes you come alive, and go do it.
Slow travel on the French canals.
God and Work: Aspects of Art and Tradition
A documentary film about the life of Peter Matthiessen.