Summits Without Soul
Donate Now
Issue 259

Mar/Apr 2010
Seeds of Change: The Future of Food
Web Exclusives
Article
Summits Without Soul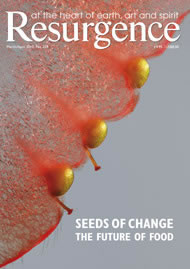 Cover: Light micrograph of part of a thinly sliced section through a strawberry. Photograph: Eye of Science/Science Photo Library.
The goal of mountaineering is to explore rather than to conquer.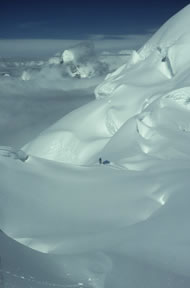 Photograph courtesy: Rob Collister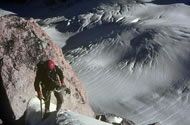 Photograph courtesy: Rob Collister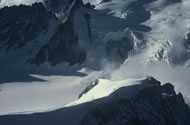 Photograph courtesy: Rob Collister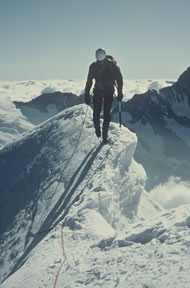 Photograph courtesy: Rob Collister
The Aletsch Glacier, which eventually flows into the Rhone valley in Western Switzerland, is the longest glacier in the Alps. It is fed by ice-streams emanating from numerous peaks, most of them over 4,000 metres. The point at which these tributaries merge to form the Aletsch is a plain of snow 2km wide known as Konkordiaplatz. At the geographical heart of the Bernese Oberland, and a recently designated UNESCO World Natural Heritage site, it has attracted mountaineers since the middle of the 19th century.
The first hut was built here on a rock shelf a few feet above the ice in 1872, and it has been periodically enlarged and rebuilt ever since to cater for growing demand. Nowadays it accommodates up to 100 people a night, especially during April and May, when it is a popular base for ski-mountaineers. Materials for the original building would have been carried all the way up from the Rhone valley by porters or by mules. For the hut guardian and his family today it is a thirty-minute ride on a skidoo uphill to the Jungfraujoch where the railway from Grindelwald terminates, or an even quicker ride in a helicopter.
In recent times we have witnessed a big change in the glacier. There is nothing new about glacial recession – it has been going on for 150 years – but the process has accelerated in the last forty years. In the case of the Aletsch the surface has dropped dramatically as the volume has shrunk. Konkordia in the summer becomes by midday a swamp of snow cut by rushing melt-water streams. Where once climbers could walk onto the ice, there is now a metal staircase zigzagging up a vertical rock face. At the end of a long day, it comes as a sting in the tail, especially at 2,800 metres above sea level.
Every year, as the glacier level falls, the Swiss Alpine Club is obliged to fit a new section of staircase. At each bend in the staircase a small sign tells the year when that was the surface of the ice. About ten years ago I counted the number of steps out of curiosity. There were 360. Two years ago I counted again. This time, there were 450. It is a graphic illustration of the effect of global warming on the landscape, but it is far from unique. The same story is being repeated all over the Alps – indeed, all over the world. Many small glaciers have disappeared completely; others have become no more than snow patches. Elsewhere, what used to be a smooth surface of snow has become a ridge and furrow of ice covered with rock debris. Access to and from larger glaciers becomes increasingly problematic, with treacherously loose moraine walls or ice-polished slabs to be negotiated.
For many people in the West, climate change is not urgently present. It is still something to be read about in the papers; something that will affect other people, at some time in the future. But for mountaineers the reality of global warming is ever present. The evidence is before our eyes any time we set foot on a glacier.
Yet the adventure travel industry is booming. The number of climbers and hikers jetting off to Greenland, Antarctica, South America and the Himalaya shows no sign of diminishing. EasyJet and Ryanair continue to post handsome profits. The heli-ski industry, though banned in France and Austria, flourishes in Italy and Switzerland, where skiers are landed on remote summits oblivious of ski-tourers who may have been travelling on foot for hours to reach that same spot. Week-end jaunts to the Alps for both skiing and climbing are very much in vogue. Climate change? What climate change?
In his new book Earth Pilgrim Satish Kumar writes that in relation to Nature, we are all either tourists or pilgrims. One would expect mountaineers to be pilgrims. Mountains have been and still are sacred in many cultures. Traditionally, even in the West, they have been sources of inspiration and symbols of aspiration. The early alpine climbers were for the most part pilgrims, entranced by what they saw and found, revelling in the discomfort and effort required. They were mountain travellers, excited by crossing a col into a different valley as much as by reaching a summit. Significant numbers were clergymen and academics seeking validation of a faith undermined in modern times.
Today the notion of mountains as natural cathedrals, first proposed by John Ruskin, is deeply unfashionable. Respect, reverence even, has been replaced by a view of mountains as commodities to be marketed for the benefit of businesses and as trophies to be collected, with lists to be ticked, by tourists. It is an attitude to be found at all ends of the mountain spectrum from Everest to Snowdon. In the Alps it has resulted in rack railways, cable cars and chairlifts to make life easier for skiers in winter and climbers in summer; in fixed ropes to make climbs of the Matterhorn, the Eiger and countless other peaks more accessible; and, most recently, in the metal clutter of vie ferrate that have sprouted on the cliffs behind every alpine village, it seems, to provide thrills without the need for skills.
There is a paradox at the root of mountaineering that was expressed succinctly many years ago by French alpinist Jacques Lagarde when he wrote: "Ever since man has been drawn to the mountains by a love of wild Nature, rigour, solitude and the unknown, all of which he found in that final refuge, he has done everything to eliminate precisely what he sought."
Today, the twin gods of consumerism and convenience have prevailed in the mountains as they have everywhere else. The modern mountaineer is so festooned with electronic equipment that there is little chance of relating directly to the mountains. We are so busy snapping everything on a digital camera, contacting loved ones by mobile phone, consulting a wristwatch to check on heart rate, height gained or speed of ascent, keeping tabs on progress with a GPS, or sending and receiving emails on a BlackBerry, that it is difficult to be ever truly in the present. There is little time or mental space left for that "sense of joy, awe and wonder" of which Satish speaks and which has been described so feelingly by mountaineers as diverse as John Muir, Eric Shipton and Arne Naess. There is not even much room for uncertainty, a prerequisite for adventure that most mountaineers would claim to be seeking.
In truth, many of us would like to be pilgrims, indeed may feel ourselves to be pilgrims, even if we have in reality been seduced by the blandishments of the equipment industry. But the situation is not irretrievable. We have but to leave the gizmos behind to emerge from a cocoon and be more acutely aware of our surroundings, more in tune with the mountain world and, as a result, not only the richer for it, but in all probability safer also. To visit the Alps out of season when the huts are closed apart from a 'winter room' (more than half the year, in fact) is to quickly rediscover "wild Nature, rigour, solitude and the unknown".
I would not wish to deny that there is value and enjoyment in the exercising of skill, judgement and experience to overcome difficulties and achieve a goal, or that there are plenty of occasions in the Alps when weather or snow conditions dictate that speed is of the essence. But to travel sometimes in a spirit of quietude rather than bent on accomplishment, as explorers rather than conquerors, is to allow mountaineering to become less a matter of success or failure, and more an opportunity to notice, to observe and to be absorbed into a marvellous world. We might then come to feel more readily a part of the mountains and to feel wounded by what has been done to them and what is happening to them. We might even find it in our hearts to comprehend the plight not just of glaciers but of the whole planet.