New Twists on Old Favourites
Donate Now
Issue 260

May/Jun 2010
On Being Human
Regulars
Recipes
New Twists on Old Favourites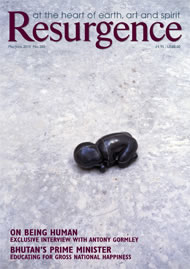 Cover: Still by Antony Gormley. Photograph: Stephen White
Issue availability
In the first of her brand new columns for Resurgence, vegetarian 'foodie' Jane Hughes shares her recipe for ladylike asparagus tartlets which capture the exuberance of her style of cooking.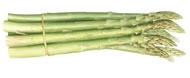 Illustration: Meriel Thurstan
I adore vegetarian food. With more than twenty years' 'service' under my belt, I'm still discovering foods that are new to me, new combinations of flavours, new feasts for the eye: the unexpected sweet crunch of a pink pomegranate seed hiding beneath a bitter salad leaf; the warming lemony tang of ginger in a meltingly soft butternut squash risotto.
In a Zen cookery class with the charismatic Californian Buddhist chef and teacher Ed Brown (see page 60 for a review of his re-issued cookbooks), I closed my eyes and put just one raisin into my mouth. Sugary fruit baked brown by the sunshine – suddenly I was back in my mum's kitchen, chewing on the blackened edge of a hot, sticky jam tart. Thank heavens I gave up that gristly grey stuff (meat) and made space on my plate for some of Nature's bounty!
Vegetarianism is a positive lifestyle choice, not some kind of punishment or an exercise in self-denial. There's a wonderful feisty new breed of punky tattooed vegans who are having lots of anarchic fun 'telling it like it is' (see Skinny Bitch in the Kitch by Rory Freedman and Kim Barnouin, and everything ever written by Sarah Kramer), and generally 'kicking ass' in the kitchen.
Eyebrows were raised amongst a group of food writers when I recently declared that a vegetarian can be a 'foodie'. I'm still fighting my corner and it's true that there are lots of foods that I won't eat, but that's only because I don't consider them to be food.
But I'm not here to shout at anybody. I reckon the best way to get anybody to start thinking seriously about changing their diet, even if it's just having a go at Paul McCartney's Meat Free Mondays, is to demonstrate, right in front of their eyes, that vegetarian food is full of flavour, looks great on the plate and doesn't require any special effort to make. That's why, last year, I started to spend some time away from my computer and actually found the nerve to start teaching people to cook. I'm still not really out to convert anybody. I just want to explain that we all have a choice available to us, and I think it's a shame that some people are missing out.
There are loads of good reasons to be vegetarian, and Resurgence readers will already be aware of them. I know vegetarianism is good for me, and good for the planet. And kinder to animals. That makes me happy, but that's not why I'm a vegetarian. I'm a vegetarian because I love vegetarian food. I smile every time I eat. I don't feel I'm denying myself anything. I cook with colour, and cream, and rich olive oil, and wine. One of my favourite discoveries, a couple of years back, was a book about cooking with alcohol called The Spirited Vegetarian, by Paulette Mitchell. Black kale with tequila! Fantastic!
So, in future issues of this magazine, I'll be trying to share some of the joy I get out of vegetarian food, and brazenly attempting to seduce you with gorgeous combinations of flavour, colour, texture and lusciousness.
Whether you're veggie or not, I hope you'll all enjoy what I'm bringing to the Resurgence table.
Mmmm, Asparagus
Asparagus is still considered something of a luxury. I wonder why. It's a native English plant that grows like a weed on parts of our coastline, a perennial that is thought to have been part of the staple diet of our hunter-gatherer ancestors.
Perhaps it's because, despite the fact that asparagus is now available throughout the year, thanks to imports from South America, the 'real' crop is still a seasonal event that we all relish. Or maybe because it takes a certain amount of commitment to grow it – when starting a new asparagus patch, you have to let the plants settle in for three years before you start to reap the rewards, and these days delayed gratification is not popular. But in the early 19th century, every country house devoted a half-acre plot to this precious and strange-looking crop.
The grassy flavour of fresh asparagus is easily trampled on. It demands a kind of elegant simplicity, and complementary flavours like lemon, lemon thyme, and eggs. These individual tartlets balance the greenness of asparagus with fresh young cheese and savoury-sweet shallots. Sophie Grigson calls shallots "ladylike" and I think that's what I'm aiming for with this dish.
I didn't really want to use goat's cheese in this recipe, because goat's cheese is fast turning into the standard thing to give a vegetarian. It's a bit too predictable and, if you're not careful, the flavour can completely overpower anything else that's on the plate. I wanted to use sheep's cheese, partly because I'm interested in exploring the seasonality of cheese, and partly because I needed something that was very light, lemony and not too pungent. Then I went to the lovely cheese shop in my town (long may it thrive) and discovered a soft, light, grassy goat's cheese with chives that ticked all the boxes for me. I asked the shopkeeper if it was widely available, and he said no. So, I'm going to suggest that you explore the shops in your locality and sample the cheeses that you find there! Support your local cheese-makers!
Asparagus Tartlets
80g butter
160g plain flour
a pinch of salt
40ml cold water
approx. 40g of trimmed asparagus tips
approx. 160g shallots (8 shallots)
1 tablespoon olive oil
1 free range egg, beaten
50ml single cream
a twist of black pepper
50g soft goat's cheese
Oven 180 °C/350 °F/Gas Mark 4
1. Rub the butter into the flour and add the salt. Mix to a soft dough with the cold water. Roll thinly to line four medium-sized tartlet tins. Bake the pastry blind for 10 minutes.
2. Cook the asparagus in boiling water for 2–3 minutes. Slice in half lengthways when cool enough to handle.
3. Soak the shallots in boiling water for a few minutes to make them easier to peel. Then peel, slice thinly, and cook in olive oil until beginning to brown. Cool, and drain away excess oil.
4. Divide the shallots between the pastry cases and arrange the asparagus on top.
5. Mix together the beaten egg, cream, black pepper and goat's cheese, and divide the mixture between the tartlets.
6. Return to the oven for 25 minutes until lightly browned and risen. Serve with a salad or baby vegetables and new potatoes.
Why not also try...
Fast and fancy: since eggs and asparagus can both be cooked in 3 minutes, how about serving boiled eggs with asparagus 'soldiers'? Could make an elegant brunch offering for unexpected visitors!
If at all possible, take time to make Dennis Cotter's Roasted Asparagus with Blood Orange Aioli (as published in Wild Garlic, Gooseberries… and Me) – asparagus becomes heroic with this orange cloak!
And to follow?
For Jane's Rhubarb and Ginger pudding recipe see