On Being Human
Issue 260 • May/June 2010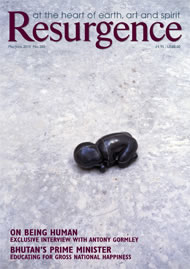 Buy a copy of this issue
Become a member and receive 6 issues a year
Contents
Key
Free for all to view
Free for members to view
Not available
Welcome
Education for human wellbeing and planetary sustainability.
Frontline
The Billion Tree campaign has now planted over eight billion trees.
Creating community out of catastrophe.
How new GPS technologies are being used in the Amazon to protect Indigenous Lands.
The Indigenous Theatre Company of Sierra Tarahumara.
Mallorca's Slow Food movement revives its paprika heritage.
Undercurrents
Why the Green Movement urgently needs to revisit 'Small is Beautiful'.
Exposing the myth that nuclear power is in any way green.
Why Wool Still Matters • Sue Blacker
Stopping the demise of a sustainable and natural resource.
Extracts from Last Child in the Woods.
In the busy modern world fasting is a chance to slow down.
Quotes
My son wants to be a hero • Maryse Arnold
Teaching children about saving the planet.
Never forget your own insignificance.
Keynotes
The Prime Minister of Bhutan on the role of Gross National Happiness (GNH) in education.
Biocultural Diversity
We are one: a celebration of tribal peoples.
The Arts
Artist Andrew Lacey is finding greener ways to work in bronze.
A sculptor grapples with the limitations of his raw materials.
Highlights from an exclusive intervew with the British sculptor Antony Gormley.
The Mythic Garden is an expression of the garden as an art form.
Regulars
A Sense of Place

- A Life Entwined • Robert Ernst

Spirit lives on in the orchard grass and mistflowers.

Interview with anti-pesticide campaigner Georgina Downs.
Big Foot, Little Foot

- Getting There • Mukti Mitchell

How you travel affects how you feel when you arrive.

Asparagus tartlets with an essence of elegant simplicity.
Nature Writers

- The Hunter as Teacher • Patrick Evans

The story of Dersu is an early example of environmentally conscious thought in popular literature.
The Occasional Didymus

- Each to their Own • John Moat

Who needs SatNav when you can simply ask someone the way?
Opinion

- What a lot of Hot Air • John Naish

We need a new e-tiquette to communicate more mindfully in the modern age.
Poetry

- An Anthology of New Voices • Peter Abbs

An appreciation of recently published poetry.
Members' Page

- Start a Resurgence Readers' Group • Ian Tennant

Readers' groups are an opportunity to get together, share ideas and enjoy seasonal food.
Letters to the Editors

- Reaching Out
Reviews
Review of Waking From Sleep: Why Awakening Experiences Occur and How to Make Them Permanent
Review of Reinventing the Sacred
Review of A New Science of Life
Review of The Complete Tassajara Cookbook and The Tassajara Bread Book
Review of On Kindness
Review of bazaars, conversations & freedom
Review of Bird on a Wire
Review of Agrofuels: Big Profits, Ruined Lives and Ecological Destruction
Review of The Barefoot Beekeeper
Review of The Secret Life of the Universe: The Quest for the Soul of Science
Review of Walking Aloud: Rambles in the Cherwell Valley
Web Exclusives
An exclusive intervew with the British sculptor Antony Gormley.
In the foothills of Dartmoor, art, science and nature meet.
Rhubarb and ginger puddings.
A co-operative global experiment to redesign civilisation.
The Participatory Turn: Spirituality, Mysticism, Religious Studies
How the World is Made: The Story of Creation According to Sacred Geometry
We need new lifestyles and new ways of living.